Phyllis Schlafly Releases Video After Attempted Coup by Cruz Supporters: "I'm Still in Charge" (VIDEO)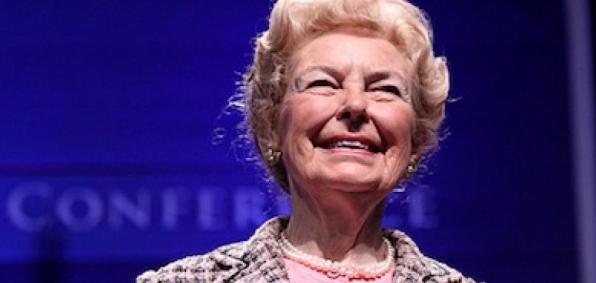 Conservative icon Phyllis Schlafly has been a national leader of the conservative movement since the publication of her best-selling 1964 book, A Choice Not An Echo. She has been a leader of the pro-family movement since 1972 when she led the fight to defeat the Equal Rights Amendment.
Phyllis Schlafly is 91 years-old.
On March 11, 2016 conservative icon Phyllis Schlafly endorsed Donald Trump for President at his St. Louis rally.
But not everyone in her organization, Eagle Forum – or her family – agreed with Phyllis Schlafly's decision.
Two weeks ago Phyllis Schlafly released several board members for disloyalty to the organization.
The group was planning to hold rogue board meeting to take over the Eagle Forum.
Click through for the VIDEO.