Pompeo fights back after GOP Sen. Corker hits Trump for 'purposeful' sowing of 'doubt and distrust'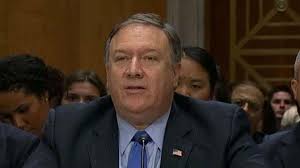 Secretary of State Mike Pompeo clashed with lawmakers on both sides of the aisle during a tense Senate hearing on Wednesday, as he took a firm line on Russia amid criticisms that the Trump administration has been soft on Moscow.
The hearing appearance marked the administration's highest-profile chance to address the sustained criticism over last week's summit between President Trump and Russian President Vladimir Putin in Helsinki, Finland. Pompeo declared that the U.S. would never recognize the Kremlin's annexation of Crimea, and threatened "severe consequences" for any future meddling in America's elections.
Senate Foreign Relations Committee Chairman Bob Corker, R-Tenn., sharply criticized the Helsinki meeting at the opening of Wednesday's hearing, saying the White House has a "ready, fire, aim" approach and is "waking up every morning and making it up as they go."
In a particularly dramatic moment, Corker pressed Pompeo to explain what he characterized as Trump's "purposeful" efforts to sow misinformation and discord.