Pro-Kavanaugh women fed up with 'gender traitors' label: 'They'll see us at the polls'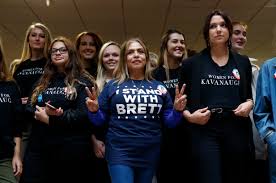 Women who supported the confirmation of Supreme CourtJustice Brett M. Kavanaugh have been ripped on the left as brainwashed, shameful, privilege-defending gender traitors, and it's starting to annoy them.
Anti-Kavanaugh activists saved their most virulent post-confirmation screeds for women who refused to condemn Justice Kavanaugh — especially the white ones — another indication of the resistance's growing irritation with centrist and conservative women putting due process over feminist solidarity.
"I find the idea that 'as a woman' I must think a certain way extremely patronizing," said Allie Stuckey, host of CRTV's "Relatable." "If these so-called feminists really believed in female empowerment, they'd be encouraging women to think with their brains rather than their anatomy."
Rants against "white women," "stupid Stepford wives," "gender traitors," and "brainwashed women" erupted on social media after the confirmation, as well as references to the 53 percent, the oft-cited percentage of white U.S. women who voted for President Trump.