Report: John Podesta May Have Violated Federal Law by Not Disclosing 75,000 Shares in Putin-Linked Company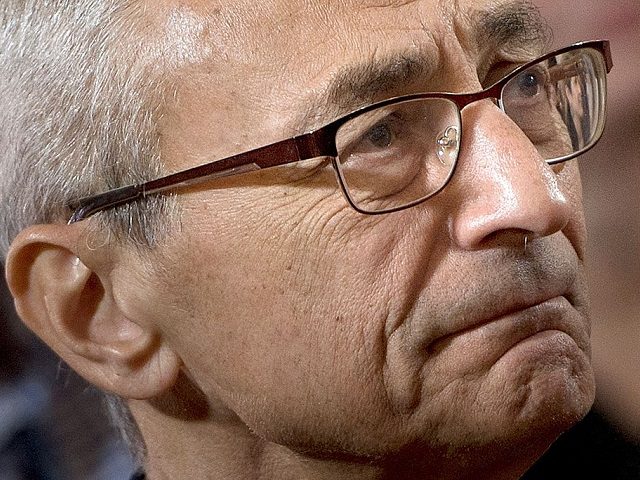 Hillary Clinton's campaign chairman, John Podesta, may have violated federal law when he failed to fully disclose details surrounding his membership on the executive board of Joule Unlimited and the "75,000 common shares" he received. The energy company accepted millions from a Vladimir Putin-connected Russian government fund.
Podesta joined the executive board of Joule Unlimited Technologies — a firm partly financed by Putin's Russia — in June 2011 and received 100,000 shares of stock options, according to an email uncovered by WikiLeaks. Podesta's membership on the board of directors of Joule Unlimited was first revealed in research from Breitbart News Senior Editor-at-Large and Government Accountability Institute (GAI) President Peter Schweizer.
Podesta never disclosed his position on Joule Unlimited's board of directors and failed to include the stock payout in his federal financial disclosures, as required by law, before he became President Obama's senior adviser in January 2014 — a possible violation for federal law, according to the Daily Caller News Foundation's Investigative Group (TheDCNF).
"Well Podesta should certainly have been more upfront in filling this out. Clearly, it should have been fully disclosed," Craig Holman, a lobbyist Public Citizen told TheDCNF. "That's the point of the personal financial disclosure forms, especially for anyone entering the White House."