Richard Nixon's California Estate Hits The Market For $75 Million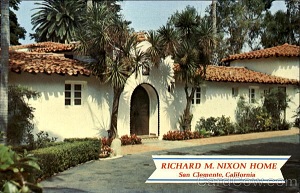 For Gavin Herbert, the retired founder and CEO of Allergan—the nearly $70 billion pharmaceuticals company—it was a lifelong love of gardening that led to his ownership of one of Southern California's most storied and valuable coastal properties: President Richard Nixon's so-called Western White House.
Now, it will hit the market for $75 million. Mr. Herbert, 83, is selling the estate after 35 years of ownership and is looking for a buyer who will continue to care for the property. The 5.5-acre estate in San Clemente, Calif., has more than 15,000 square feet of living space over a main house, guesthouses and staff quarters, and 450 feet of ocean frontage.
Listing agent Rob Giem, of HOM Sotheby's International Realty, says the high price tag is justified, even aside from the property's provenance, as it is the largest stretch of available residential oceanfront south of Los Angeles. Prices for vacant waterfront lots in Orange County typically sell for $5 million to $10 million for a quarter-acre, he says. "It's one of a kind," he adds.
In 1969, six months into his presidency, Mr. Nixon and some business partners bought the property, then 26 acres, for $1.4 million from the widow of original owner, Hamilton Cotton, according to reports from the time. He dubbed it La Casa Pacifica. …