Schiff, Jordan trade barbs during impeachment deposition over who's on TV more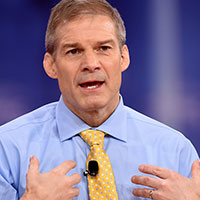 House Intelligence Committee Chairman Adam Schiff, D-Calif., and Rep. Jim Jordan, R-Ohio, traded heated words last month during a closed-door deposition in the impeachment inquiry into President Trump.
The subject of the argument? Not the facts of the inquiry, nor a parliamentary request, nor what witnesses were being called. It was about who got more facetime in front of the television cameras.
"The chairman should follow his own rules," Jordan said during the deposition of former White House Deputy National Security Adviser Charles Kupperman. "Every single deposition, when it ends, you telI us, this is — under the deposition rules we're not supposed to go out and share information. But on Sunday, on a national news channel … you went on a Sunday show and directly quoted what that person said in his testimony."
Jordan added: "Maybe you should follow what you telI us every single day when we leave these depositions, that we are not to go out and share substantive comments from the witness. And yet you did that just yesterday morning. Maybe that's the rule we need to be focused on."