Second pro-Romney radio ad hits Christie, Bush, Palin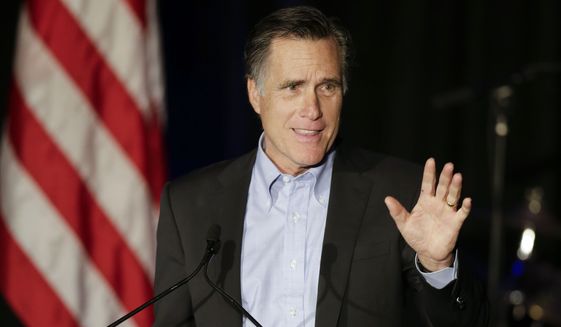 A production company owned by a supporter of 2012 GOP presidential nominee Mitt Romney has released its second radio ad boosting Mr. Romney in as many weeks and indirectly knocking a few of his potential 2016 rivals in the process.
"In a world where Chris Christie, Jeb Bush, and Sarah Palin are considering a run for the presidency, one wants to sell you a bridge, one wants to provide a bridge to immigrants, and one built a bridge to nowhere," says a narrator in the ad from TMR Multimedia, which is acting independently of Mr. Romney. "Only one man can bridge the gap between Republicans and connect with America: Mitt Romney."
The ad is an apparent reference to the "Bridgegate" controversy in fall 2013 over lane closures on the George Washington Bridge. A report from a committee investigating the matter said last month there was no evidence tying Mr. Christie to the closures.