Senate Democrats to meet with Brett Kavanaugh in August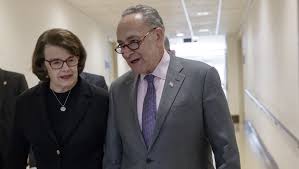 Senate Democrats, after weeks of refusing to meet with Supreme Court nominee Brett Kavanaugh until a dispute over his record is resolved, have decided to sit down with him when they return from break this month.
Senate Minority Leader Chuck Schumer, D-N.Y., and Sen. Dianne Feinstein, D-Calif., will begin meeting with Kavanaugh when the Senate returns from a weeklong recess on Aug. 15.
They will "demand the missing documents from him directly and question him about their content," said a senior Senate Democratic side.
They will also question him on healthcare, women's freedom, presidential power, and other issues, the aide said.