'Sunday Night Football' Ratings Down Again On Day Of Player Protests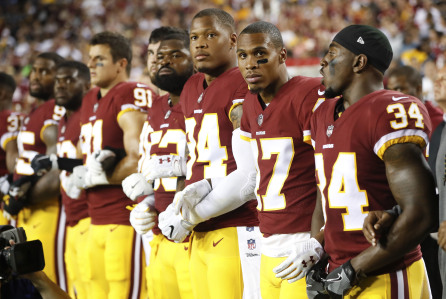 In metered market numbers, the primetime match-up between the 27-10 winning Washington Redskins and the Oakland Raiders snared an 11.6/20.
The worst SNF has performed this season so far, that's an 8% dip from the early numbers of last week's Atlanta Falcon's 34-23 win over the Green Bay Packers. Gaining cheers and boos from fans at FedEx Field in Maryland last night, the third week of SNF for the 2017-2018 season declined 10% from early numbers of the comparable game of last year on September 25, 2016.
Last night's SNF peaked with a 12.5/20 during the second quarter at 9 – 9:30 PM ET. Not that such a number can feel good to the NFL with ratings down double-digits this season so far after taking a similar tackle last year.
These SNF numbers come on top of a tense Sunday that saw games across the nation under a new spotlight for how they would respond to Trump's blasts of Friday at a speech in Alabama and on social media. Started by currently unemployed quarterback and then San Francisco 49er Colin Kaepernick over a year ago, a number of NFL players have been publicly protesting police brutality and racial injustice by not standing for the National Anthem. It was a move that the ex-Celebrity Apprenticehost and football fan decried though the ever ratings conscious Trump later said in a tweet on Sunday that linking arms was OK.