Swing-seat Democrats oppose impeachment, handing Pelosi leverage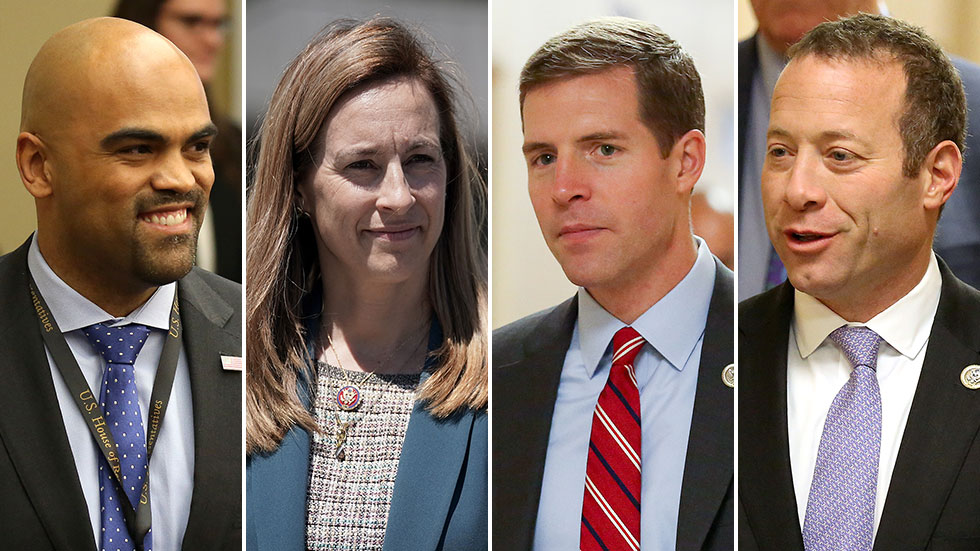 Vulnerable House Democrats in swing districts are resisting pressure to back the launching of an impeachment inquiry against President Trump.
Even as a majority of the House Democratic Caucus backs impeachment, many of the "majority makers" in swing districts have stayed on the sidelines.
Only 13 of the 55 Democrats on the House GOP campaign arm's 2020 target list publicly back an impeachment inquiry. And just two of the 31 House Democrats in districts carried by President Trump in 2016 back one: Reps. Chris Pappas (N.H.) and Lauren Underwood (Ill.).
Impeachment advocates have been pressing Democratic Reps. Conor Lamb (Pa.), Josh Gottheimer (N.J.), Andy Kim (N.J.), Colin Allred (Texas), Mikie Sherrill (N.J.) and others representing swing districts at events in recent weeks, but so far none of them have come out in favor of impeachment.
This opposition has handed Speaker Nancy Pelosi (D-Calif.) leverage as she argues within her caucus against impeachment.
Pelosi has said it does not make sense to go forward with impeachment if supporters do not have the 218 votes necessary to win a vote on the floor — let alone the 67 Senate votes required for a conviction. Allies have warned an impeachment proceeding could backfire on Democrats just as it did for Clinton-era Republicans.
Still, the Speaker is expected to come under a new wave of pressure from progressives backing an impeachment inquiry when lawmakers return to the Capitol next week. Progressive groups have sought to build the case for impeachment, and lawmakers such as Lamb and Kim have been on the front lines of the fight.
Kim has been pressed at multiple town halls over the summer recess to back impeachment proceedings, but each time the freshman lawmaker called for a methodical approach.
On July 30, as constituents shouted "Why is it taking so long?" and "Do your job!" Kim said that "the committees are telling me they have what they need to move forward. Granted, I agree with you it's not moving fast enough," according to the Burlington County Times.
At another town hall on Aug. 14, a constituent told Kim that she "would like to start with a clean slate," adding that "the fish rots from the head down. I don't want to be part of that rot anymore."
Kim told the town hall, "I know that you're angry and upset. I understand that. But I want to make sure we understand that oversight or impeachment are not going to wish away a lot of the problems that we face."
"I certainly get the message loud and clear how people in this room feel," Kim added, according to The Philadelphia Inquirer.
Lamb similarly defended his position at a town hall on Aug. 20, telling constituents that "I am not convinced now, nor have I been, that we have met the bar for impeachment."
"I think that's an extremely high bar, but I'm continuing to follow these investigations as much as I can," Lamb added.
A coalition of liberal activist organizations including Indivisible, MoveOn, Need to Impeach and Stand Up America have been pushing impeachment supporters to show up at Democratic lawmakers' events over the House's six-week summer recess to press them on whether they think Trump should be impeached.
"In the past few weeks, we've seen more and more representatives publicly come out in favor of impeachment. This did not happen on its own. It happened because members of all our grass-roots organizations came out and demanded action," said Ezra Levin, the co-executive director of Indivisible.
Thirteen Democratic lawmakers in competitive races do back impeachment, but all but Underwood and Pappas represent districts that are marginally more left-leaning and were carried by Democratic presidential nominee Hillary Clinton in 2016: Reps. Tom Malinowski (N.J.), Katie Porter (Calif.), Debbie Mucarsel-Powell (Fla.), Sean Casten (Ill.), Harley Rouda (Calif.), Ann Kirkpatrick (Ariz.), Peter DeFazio (Ore.), Jason Crow (Colo.), Mike Levin (Calif.), Jennifer Wexton (Va.) and Kim Schrier (Wash.).
Pappas became the first Democrat representing a Trump district to announce support for an impeachment inquiry on July 26. That came on the same day that Democrats on the House Judiciary Committee filed an application in court to obtain grand jury material underlying Mueller's report, arguing it was necessary in order to determine whether to recommend articles of impeachment.
Since then, Judiciary Committee Democrats have been framing their months-long investigations of the Trump administration as an effort to determine whether to recommend impeachment articles. They argue an impeachment inquiry is effectively underway without taking a formal vote calling it as such.
Some vulnerable Democrats are now expressing support for the impeachment process by merely saying they back what the committee is already doing.
Underwood, who had been targeted by impeachment activists, issued a statement on Aug. 20 saying that "I support this investigation."
Underwood acknowledged in an interview with MSNBC's "The Last Word with Lawrence O'Donnell" that she's been getting asked about impeachment at town halls in her district in recent weeks.
"I gotta tell you, the No. 1 issue that's been raised at my town halls this week: Medicare, the price of prescription drugs, what's going on with Social Security. These are the issues that are top of mind for so many folks. But during these conversations, I often do get asked about impeachment," Underwood said.