The Russians Are Coming, The Russians Are Coming!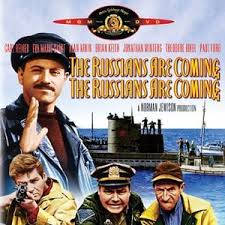 A case of art imitating life or life imitating art?
A late 1960's movie called 'The Russians Are Coming, The Russians Are Coming', was a Cold War era comedy which depicted Russian sailors secretly living, undetected in a small New England town, after their submarine had landed on the town's shore by accident.
Fast forward to today, and it's hard to tell which is more humorous? The movie starring such comedic actors as Carl Reiner and Jonathan Winters or the current political events in Washington starring Barack Obama, Lindsey Graham, Donald Trump and others?
Let's just say for a moment that the Russian's did indeed hack DNC computers. What was the result? Did they rig the election? Certainly not. President Obama himself, is on record as saying that 'no serious person who could rig an election in the U.S.' He said that in October of this year.
Take a look at these mainstream media headlines also from October- just before the election:
* 'Rigging An Election Is Almost Impossible. Donald Trump Is Wrong'- The Washington Post
* 'Donald Trump's Baseless Claims About The Election Being Rigged.'- Politifact.com (Their website says they've won a Pulitzer Prize by the way).
* 'Obama Tells Trump To Stop Whining Over Rigged Election Claims'- The New York Times.
Now, here we are post-election and all three of those very same media outlets are accusing the Russians of hacking DNC computers and throwing the election for Trump. Like I said earlier, its more humorous than the movie.
If the Russians did indeed hack the DNC computers what was the result? Not a rigged election. They simply revealed what democrat party officials were saying and doing in their own words. And it wasn't pretty. We saw email communications among party officials who were strategizing ways to cheat so that Bernie Sanders would lose the primary. We saw party officials working hand in hand with the media cheating to get debate questions in advance, and we saw stories of party officials using their influence and power to raise lots of money despite the conflicts of interest.
The media can't understand why their candidate lost. All they need to do is take a look at her email messages. Unfortunately, it's no laughing matter.