Tom DeLay sentenced to three years in prison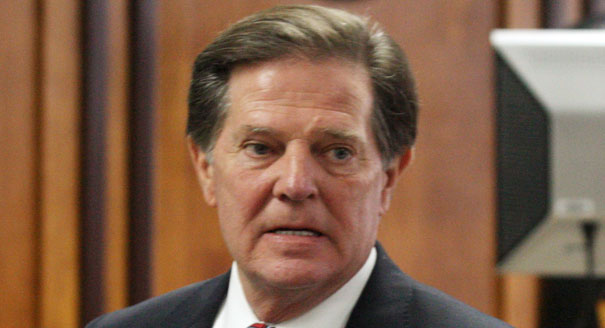 Former House Majority Leader Tom DeLay (R-Texas) has received a three-year prison sentence following his conviction in a money laundering and conspiracy case, the latest blow to the once powerful lawmaker.
DeLay was convicted in November on charges of money laundering and conspiracy to commit money laundering. DeLay, who was forced to step down as majority leader in 2005 after he was indicted on the state charges, has long denied any wrongdoing.
DeLay is appealing his conviction, but the sentencing is a yet another remarkable development in the downfall of a politician who was feared in the House and earned the nickname "The Hammer" during the peak of his power.
State Judge Pat Priest sentenced DeLay to a three-year term on conspiracy, and then accepted 10 years of probation in lieu of a five-year prison term on the money laundering charge. DeLay faced up to life in prison following his conviction.
"I always intended to follow the law," DeLay told Priest before the sentence was handed down. "I'm not stupid. Everything I did I had accountants and lawyers telling me what to do and how to follow the letter of the law, even the spirit of the law."
"Judge, I can't be remorseful for something I don't think I did," DeLay added, according to CNN.
DeLay will be released on a $10,000 bond while he seeks to overturn the conviction.
At the center of the money laundering case against DeLay was the claim by prosecutors that the Texas Republican and his political allies illegally funneled "soft money" in 2002 state legislative races, a violation of Lone Star State election law.
To read more, visit: Tom DeLay sentenced to three years in prison