Trump imposes chemical weapons sanctions on Russia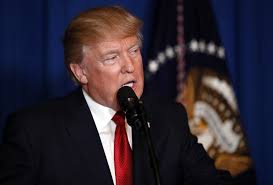 President Trump is imposing new sanctions on Russia in response to the use of a chemical weapon in an assassination attempt that took place on British soil, the State Department announced Wednesday.
"[T]he United States, on Aug. 6, 2018, determined under the Chemical and Biological Weapons Control and Warfare Elimination Act of 1991 (CBW Act) that the Government of the Russian Federation has used chemical or biological weapons in violation of international law or has used lethal chemical or biological weapons against its own nationals," State Department spokeswoman Heather Nauert said in an afternoon bulletin.
Trump's decision restricts access to U.S. government financing and foreign aid and bans the export of national security technology to Russia. But the decisions set the table for a more aggressive round of sanctions in November, including moves to desire Russia of international financing and to downgrade diplomatic relations.
"If chemical weapons can appear in a small English town, where might they start appearing next?" Nikki Haley, the U.S. ambassador to the United Nations, said in April. "None of us will be immune from this threat unless we immediately start rebuilding our consensus against chemical weapons."