Trump's announcement that 8,600 US troops will stay in Afghanistan both panics and reassures critics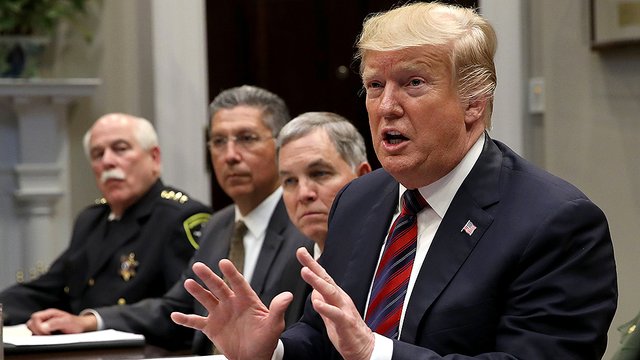 'WE'RE GOING TO KEEP A PRESENCE': As the expected announcement of a deal with the Taliban that would provide for the gradual withdrawal of U.S. troops from Afghanistan grows closer, the concern of some members of Congress and national security experts has grown as well. The fear: that President Trump, in his rush to get out, will abandon the Afghan government and its still-struggling military after nearly 18 years of support.
But Trump told Brian Kilmeade on Fox News Radio yesterday that the United States will be keeping 8,600 troops in Afghanistan to deal with what he called "the Harvard University of terror."
"We're going to keep a presence there. We're reducing that presence very substantially, and we're going to always have a presence, and we're going to have high intelligence, and I will put this word out, and I've already said it, but if they [the Taliban] ever did anything from Afghanistan, we will come back with a force like they've never seen before," Trump said.
Trump hinted there could be further troop reductions, depending on the progress of peace talks the Taliban have promised to begin with the U.S.-backed Afghan government. "We're going down to 8,600 and then we make a determination from there as to what happens," he said. "We have it very well controlled. You know, we're not fighting a war over there, we're just policeman over there."
This all assumes that U.S. special representative Zalmay Khalilzad is able to seal the deal in the final negotiations with the Taliban in Doha, Qatar. "I don't know that it's going to happen," Trump said. "I mean, it's getting close."
On Monday, Khalilzad tweeted, "No one should be intimidated or fooled by propaganda! Let me be clear: We will defend Afghan forces now and after any agreement w/ the Talibs. All sides agree Afghanistan's future will be determined in intra-Afghan negotiations."
WE CAN'T OUTSOURCE OUR DEFENSE: In an op-ed published in the Washington Post the day before Trump's announcement, Sen. Lindsey Graham, one of Trump's diehard supporters in Congress, and retired Gen. Jack Keane, former Army vice chief of staff, warned against a total withdrawal.
"We must be clear: The United States should never outsource its national security to anyone, especially the Taliban," they wrote. "We cannot rely on the Taliban for security; we have lost too many soldiers at Taliban hands for that. The Afghan war must end on our terms, not the Taliban's."
THE LOGIC OF THE DRAWDOWN: The Trump administration has insisted all along the withdrawal of U.S. forces will be "conditions based." The plan is to bring about 5,000 U.S. troops home over several months while keeping a close eye on the Taliban to see if they are keeping their promises to abide by a ceasefire and begin real peace talks with the government. Outgoing Joint Chiefs Chairman Gen. Joseph Dunford said Wednesday that the peace deal is "something worth trying" if it will reduce the level of violence but that it's too soon to expect the Afghan military to stand on its own.
"It's our judgment that the Afghans need support to deal with the level of violence that is associated with the insurgency today," Dunford said at a Pentagon briefing. "If an agreement happens in the future, if the security environment changes, then obviously our posture may adjust."
THE HERITAGE TAKE: The Trump plan closely tracks what Heritage Foundation analysts Luke Coffey and Jeff Smith outlined earlier this month as the conditions under which it would be reasonable to withdraw a small portion of U.S. or international forces.
Progress is being made with direct talks between the Taliban and the Afghan government.
The drawdown leads to a nationwide ceasefire that includes both Afghan and foreign militaries and all civilians.
The number of troops withdrawn does not fall below the troop levels in August 2017, when President Trump announced his new strategy.
The withdrawn forces remain in the broader region at a level of readiness that allows them to return to Afghanistan quickly in the event that the Taliban's talks with the Afghan government collapse or if the ceasefire breaks down.
PROTECTING AFGHAN PARTNERS: In a just-published op-ed, former American ambassador to Afghanistan Ryan Crocker worries the prospective peace deal will abandon Afghan partners who served the U.S. mission.
"The proposed U.S. troop withdrawals would mean that some Afghan partners awaiting visa processing would lose their jobs and therefore lose the right to live on a protected U.S. base. The Taliban cannot be trusted to protect civilians, let alone the Afghan interpreters whom they have targeted as traitors," Crocker writes. "As part of any planning for a reduction in forces, the U.S. government has a responsibility to protect those who served the United States and who worked tirelessly at great personal risk to protect U.S. personnel and advance the U.S. mission."
Good Friday morning and welcome to Jamie McIntyre's Daily on Defense, written and compiled by Washington Examiner National Security Senior Writer Jamie McIntyre (@jamiejmcintyre) and edited by Kelly Jane Torrance (@kjtorrance). Email us here for tips, suggestions, calendar items, and anything else. If a friend sent this to you and you'd like to sign up, click here. If signing up doesn't work, shoot us an email and we'll add you to our list. And be sure to follow us on Twitter: @dailyondefense.
Subscribe today to the Washington Examiner magazine and get Washington Briefing: politics and policy stories that will keep you up to date with what's going on in Washington. SUBSCRIBE NOW: Just $1.00 an issue!
NOTE TO READERS: Daily on Defense will not publish Monday, Sept. 2, in observance of the federal Labor Day holiday. We'll be back Tuesday, Sept. 3.
HAPPENING TODAY: Air Force Lt. Gen. Jack Shanahan, director of the Joint Artificial Intelligence Center, is scheduled to brief reporters on the Pentagon's "AI-related initiatives" at 10 a.m. in the Pentagon Briefing Room. While the briefing is on the record, it is not on camera and so will not be live streamed by the Pentagon.
You can, however, read Shanahan's recent blog post "Artificial Intelligence: A Game Changer & Decisive Edge" on the Pentagon's official science website.
BACKING ISRAEL, BUCKING THE PENTAGON: On Monday, the Pentagon issued a strongly worded statement condemning what it called "actions by external actors inciting violence in Iraq." The statement did not identify Israel as the "external actor" suspected of being behind last month's attack on a convoy and this month's strike against an ammunition storage facility in Iraq.
But yesterday, the United States essentially gave Israel the green light to conduct further airstrikes against Iranian proxies in Iraq.
"Each time Israel has been forced to take actions to defend itself, the United States has made very clear that that country has not only the right but the duty to protect its own people. And we are always supportive of their efforts to do that," said Secretary of State Mike Pompeo, in an interview on the Hugh Hewitt Show.
Iran "is pouring heavy weapons and fighters into Israel's neighbors with the express purpose of threatening Israel," a senior administration official, speaking on condition of anonymity, told reporters yesterday.
YOU CAN'T DO THAT: On the same day Defense Secretary Mark Esper was reaffirming his commitment to keep the Pentagon and the U.S. military apolitical, an Army National Guard major clearly stepped over the line at a town hall event with Democratic presidential hopeful Joe Biden in South Carolina.
Maj. Ginger Tate attended the event in uniform and presented Biden with a military challenge coin while a crowd of about 400 looked on.
"I've been saving these coins for six years to meet you and President Obama so if that I ever met you, I would give it to you," she said. "I'm so honored to have served under your administration and your leadership, and I hope and pray that you will be our next president."
Tate's appearance in uniform violates a Department of Defense directive and the Hatch Act, which bars some political activity by federal workers.
"It is both inappropriate & against military regulations for anyone in uniform to support a politician or a political candidate…of either party," tweeted retired Lt. Gen. Mark Hertling, now a CNN military analyst.
"We have rules and regulations throughout the services that say you can't wear political items on a uniform, et cetera," Esper said Wednesday, "and we will continue to enforce those standards."
So far no disciplinary action has been announced with respect to Maj. Tate.
BIDEN'S BUNGLED WAR STORY: Meanwhile, Biden is in clean-up mode after being called out for inaccuracies in a war story he told during a rally last Friday in New Hampshire.
"In the space of three minutes, Biden got the time period, the location, the heroic act, the type of medal, the military branch and the rank of the recipient wrong, as well as his own role in the ceremony," the Washington Post reported, adding he appears to have muddled three different stories into one.
Biden says he may have gotten a few details wrong but the "central point" of it was true.
"I don't understand what they're talking about, but the central point is it was absolutely accurate what I said," Biden said. "He refused the medal. I put it on him, he said, 'Don't do that to me, sir. He died. He died.'"
Biden appears to have recalled inaccurately a 2011 award ceremony in Afghanistan's Wardak Province, when he pinned the Bronze Star on Army Staff Sgt. Chad Workman after Workman attempted to save a friend from a burning vehicle.
MATTIS DENIAL RINGS HOLLOW: In light of former defense secretary Jim Mattis's not-so-veiled criticism of his former boss, it's worth reconsidering his denials last year of comments attributed to him by journalist Bob Woodward in his book Fear: Trump in the White House.
Woodward wrote that Mattis was "particularly exasperated and alarmed" by Trump and told "close associates that the president acted like — and had the understanding of — 'a fifth or sixth grader.'"
Mattis, who admitted he never read the book, issued a strong denial at the time. "The contemptuous words about the President attributed to me in Woodward's book were never uttered by me or in my presence," he said in a statement. "While I generally enjoy reading fiction, this is a uniquely Washington brand of literature, and his anonymous sources do not lend credibility."
It should be noted that despite a round of denials from Trump Cabinet members at the time, nothing of significance that Woodward reported turned out to be untrue, and in his interview with the Atlantic, Mattis revealed his true feelings that some of Trump's tweets were "beneath the dignity of the presidency."
SHOW THEM THE MONEY: News that the White House is reviewing whether $250 million in military assistance should be sent to Ukraine is infuriating members of Congress, who charge the "review" is a thinly veiled sop to Russian President Vladimir Putin.
"Enough is enough. President Trump should stop worrying about disappointing Vladimir Putin and stand up for U.S. national security priorities," New Jersey Democrat Bob Menendez, ranking member of the Senate Foreign Relations Committee, said in a statement.
"In willfully delaying these funds, the Trump Administration is once again trying to circumvent Congress' Constitutional prerogative of appropriating funds for U.S. government agencies. It is also undermining a key policy priority that has broad and deep bipartisan support," he said, warning that any further effort to weaken U.S. efforts to hold Russia accountable "will be met with fierce opposition in Congress."
On CNN, Indiana Republican Rep. Jim Banks defended the administration review.
"When President Obama was in office, and the Ukrainians asked for help, we sent them blankets. President Trump has sent them lethal aid to fight back against the Russians," Banks told CNN's Wolf Blitzer. "If President Trump cuts foreign aid to Ukraine — and I don't think he will do that — have me back on the show, and I will criticize that. But that's not what he has decided to do with this at this point in time."