Trump's SCOTUS Nominee: The Right Man at the Right Time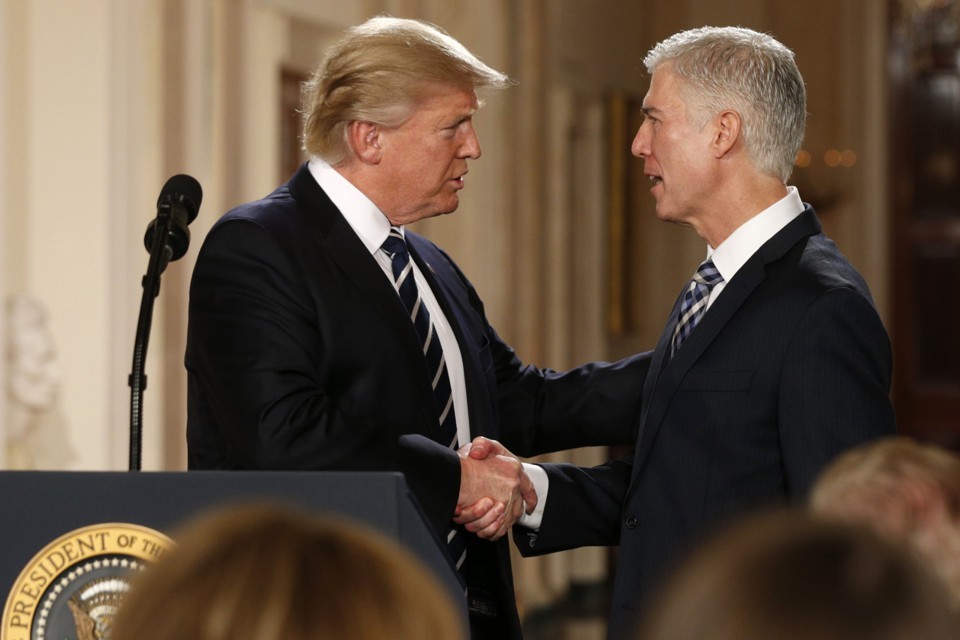 The vacant ninth seat within the United States Supreme Court is one step closer to being filled. President Trump has selected conservative stalwart and top legal mind Neil Gorsuch for the seat. Although the vetting process will be filled with Democratic tedium, Gorsuch represents a hardline conservative in the mold of Antonin Scalia that the mainstream America will be able to get behind. Currently, the Judicial Crisis Network has launched a $10 million campaign to ensure that Gorsuch is able to withstand the vetting process. The money will be used to bolster
Gorsuch's reputation in states that Trump won during the election, including Washington, D.C., Indiana, Missouri, Montana and North Dakota.
Senator Elizabeth Warren represented the baseless liberal position against the appointment quite well. "President Trump had the chance to select a consensus nominee to the Supreme Court. To the surprise of absolutely nobody, he failed that test," she shrieked during a hearing.
This viewpoint, however, is difficult to back. As a federal appeals judge in Denver's busy 10th Circuit, Gorsuch has built a record of basing his decisions squarely on mainstream readings of the Constitution. What liberals are likely more upset with is that Gorsuch has been able to hold right-leaning positions in what is otherwise a Democratic stronghold. He also has the mind to back up his positions within the legal framework set forth by the Constitution – hardly representing the extreme views that Democrats are trying to foist upon him.
Liberals are also undermining their case of presenting Trump's pick as an extremist through their own actions. The filibuster that Senate Democrats are imposing to weaken the resolve of Gorsuch's backers is an action that has only been taken four other times in history.
Gorsuch also comes into the spotlight as a highly respected legal mind on both sides of the aisle. The most telling evidence of this is his appointment as an openly conservative judge in Denver; however, his degrees from Harvard and Oxford do quite a bit of talking as well. He has served as a clerk for not one, but two Supreme Court Justices – Justice Byron White and Justice Anthony Kennedy. His service as an appeal court judge for the US Court of Appeals has spanned more than a decade. He is also a distinguished member of the Advisory Committee on Appellate Rules.
What the Democrats really fear is that Gorsuch is all of 49 years old, a baby in terms of the United States Supreme Court. If he is confirmed, it is likely that he will be able to see many cases that may overturn policies that liberals have hung their hat on since Justice Antonin Scalia began to serve on the Court. This, above all, does not bode well for liberal policy over the next half-century, nor does it do much for their short-term appeals against policies Trump may look to invoke within the next 4 to 8 years.
For virtually any other nominee at any other time, bringing a record like Gorsuch would virtually assure a confirmation. However, with America divided more than ever and the Trump presidency too young to heal those wounds just yet, look forward to quite a battle before Gorsuch is finally installed. When he is, a new era of policy can begin.
Source
http://www.reuters.com/article/us-usa-court-trump-idUSKBN15F1OW
http://www.politico.com/story/2017/01/senate-democrats-filibuster-supreme-court-pick-234368
http://www.foxnews.com/politics/2017/01/31/conservative-group-launches-10m-campaign-to-support-trumps-supreme-court-pick.html
http://thehill.com/homenews/senate/317261-democrats-line-up-against-trumps-supreme-court-pick
http://www.newsweek.com/why-neil-gorsuch-must-not-be-confirmed-supreme-court-eichenwald-551429