Warning Signs Emerge In GOP's Tax Reform Push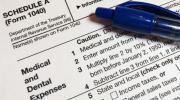 The GOP's push for tax-reform legislation is showing some early signs of trouble.
With Republicans pivoting to their second big agenda item, leadership is facing a familiar dynamic: Divisions among members, competing demands and no room for error.
Republicans have failed to score a major legislative win this year despite having the first unified GOP government in a decade.
And they're under intense pressure from both supporters and outside groups to meet their self-imposed deadline of passing tax reform this year. The move would hand the party a major accomplishment to tout heading into the 2018 midterm elections.