Trump attacks ABC over report he said Dorian could impact Alabama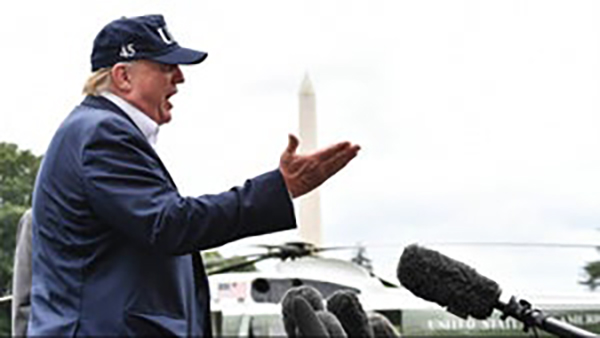 President Trump on Monday night blasted ABC News for the network's reporting on his claims that Hurricane Dorian was expected to impact Alabama.
"Such a phony hurricane report by lightweight reporter @jonkarl of @ABCWorldNews," Trump tweeted, targeting the network's chief White House correspondent. "I suggested yesterday at [the Federal Emergency Management Agency] that, along with Florida, Georgia, South Carolina and North Carolina, even Alabama could possibly come into play, which WAS true."
"They made a big deal about this when in fact, under certain original scenarios, it was in fact correct that Alabama could have received some 'hurt.' Always good to be prepared! But the Fake News is only interested in demeaning and belittling. Didn't play my whole sentence or statement. Bad people!" he added.
Trump raised eyebrows on Sunday when he tweeted that Florida, South Carolina, North Carolina and Georgia and Alabama would "most likely be hit (much) harder than anticipated." He also told reporters at the White House that "Alabama is going to get a piece" of the storm, despite no other officials or agencies suggesting Alabama residents would be affected.
Several major outlets reported Trump's statement was incorrect, with some saying it caused confusion. Some 20 minutes after his tweet, the National Weather Service tweeted a response to Trump's claim.
"Alabama will NOT see any impacts from #Dorian," the agency tweeted. "We repeat, no impacts from Hurricane #Dorian will be felt across Alabama. The system will remain too far east."
ABC News did not immediately respond to a request for comment from The Hill.
The hurricane, which reached Category 5 status on Sunday but has since been downgraded to a Category 4 storm, is headed toward the southern U.S., with Florida, South Carolina, North Carolina and Georgia having declared states of emergency and likely to face impacts in the coming days.