Tea Party Circles the Wagons Around Justin Amash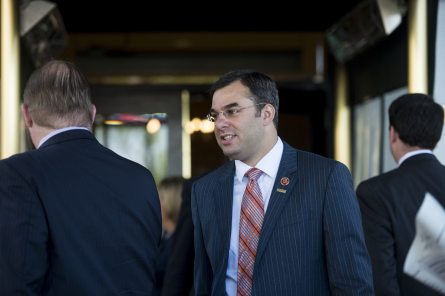 No House Republican enrages the business-friendly wing of the GOP more than Justin Amash. But members and operatives who hoped to end his political career are running out of time and moxie before Michigan's Aug. 5 primary.
So far, many of Amash's cash-flush critics have passed on investing substantial resources in his GOP rival, former East Grand Rapids School Trustee Brian Ellis. At the same time, Amash allies such as the Club for Growth and Sen. Ted Cruz, R-Texas, have tangibly backed the libertarian sophomore's re-election in the 3rd District.
Amash rankles House GOP leadership and rank-and-file members over issues ranging from national security to parochial legislation. He's often at odds with much of his conference, and privately, many members and their aides say their capacity to govern would be easier if he was no longer in Congress.
But on Capitol Hill, it's still taboo to try to oust a fellow member — even someone who frustrates GOP Leadership as much as Amash. As a result, almost no one in Congress will publicly challenge his re-election.
For example, Ellis' sole donor in the Michigan delegation is House Intelligence Committee Chairman Mike Rogers — and he's retiring this year.