New York chapter of Democratic Socialists of America endorses Cynthia Nixon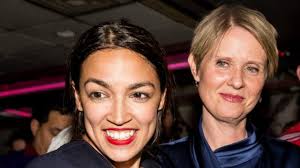 Nixon, best known for starring in "Sex and the City," is challenging New York Gov. Andrew Cuomo (D) from the left with a progressive platform that includes single-payer health care, climate justice and abolishing Immigration and Customs Enforcement (ICE).
Nixon in July dubbed herself a "democratic socialist" and her spokeswoman Lauren Hitt told Politico that she was in touch with NY-DSA.
"Some more establishment, corporate Democrats get very scared by this term but if being a democratic socialist means that you believe health care, housing, education and the things we need to thrive should be a basic right not a privilege then count me in," Nixon wrote in an email to Politico. "As Martin Luther King put it, call it democracy or call it democratic socialism but we have to have a better distribution of wealth in this country."
"I have long stood in support of a millionaires tax, Medicare for all, fully funding our public schools, housing for all and rejecting all corporation donations — all of which align with democratic socialist principles," she added.