Netanyahu Congress speech raises few hopes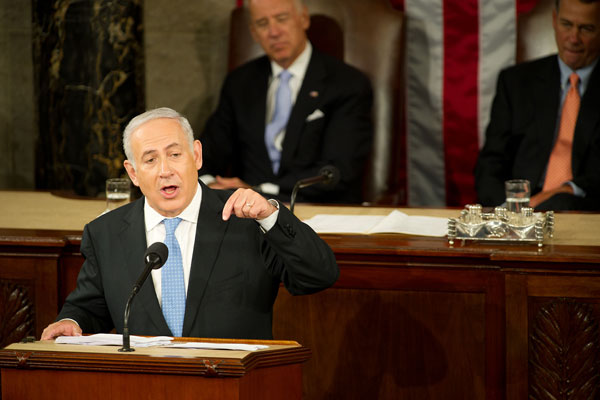 (Reuters) – Palestinians and Israelis alike saw little prospect of a fresh start to Middle East peace talks on Wednesday after Israeli Prime Minister Benjamin Netanyahu's keynote speech to Congress.
At a Washington encounter with sympathetic U.S. lawmakers, Netanyahu pleased core supporters while offering nothing new to secure peace with the Palestinians, in the assessment of most media commentators.
Invited by the Republican opponents of President Barack Obama, Netanyahu won standing ovations as he extolled Israel's democracy and military self-reliance while rejecting any Palestinian state based on Israel's pre-1967 borders.
He ruled out dividing Jerusalem and urged Palestinian President Mahmoud Abbas to shun the Islamist Hamas movement, promising to be "generous" with West Bank land if Abbas would make peace. But he pledged to keep control of the Jordan Valley.
Palestinians said it was a familiar offer of "leftovers" that could not divert them from their new strategy of seeking majority United Nations recognition of Palestinian statehood at the General Assembly in September.
"Netanyahu is the best spokesman Israel has in the United States," wrote Nahum Barnea in Yedioth Ahronoth. "All Israelis love America … and the members of Congress love Israel."
American-educated Netanyahu chose exactly the right tone and used idioms like a native to create the right atmosphere in the packed chamber.
"Regrettably, members of Congress will not be there when Israel gets into trouble," Barnea said.
"Their engagement in foreign policy is marginal. Their influence on foreign affairs is small. And mainly, it is not they who will look for shelter in Ashkelon or Beersheba if rocket fire is resumed" by Hamas in Gaza.
TOP OF POLL
Obama, currently on a visit to Europe, has won international support for the principles he set out in a major policy speech last week to revive the moribund Mideast peace process.
Abbas is due to consult Arab states at the weekend on how to respond to the initiative.
Israel's daily Maariv published a poll showing about 57 percent of voters believe Netanyahu should have supported Obama's initiative rather than opposing Obama.
But the poll also showed Netanyahu was still Israel's most popular political leader.
"Netanyahu knows very well that the conditions that he set yesterday for a peace process are a complete non-starter," wrote Maariv's Ben Caspit.
"There is no Palestinian in the world who will accept them, there is no Arab state in the world that will support them, there is not a single person in Europe who will take them seriously, and they will only make Barack Obama angry."
Caspit also made the point that in the United States, foreign policy is set by the President, not Congress.
"Nobody in the world will change their attitude toward Benjamin Netanyahu as a result of this speech. Nobody will change their attitude toward Israel as a result of this speech. Peace will not break out as a result of this speech. No peace outline was presented in this speech," he concluded.