When you ask God to give you strength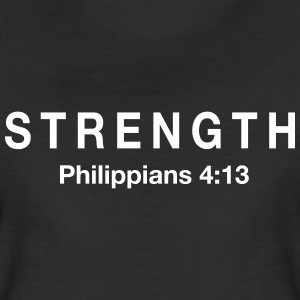 We've all said it before. "God, give me the strength…"
But have you ever noticed that he doesn't? He doesn't waive his hand and *POOF*, magically you're as strong as an Ox! Or, *POOF*, you have the resolve of a dozen people and are able to get through the day.
That's not at all what God does. What he does do, is give us an opportunity to be strong. To do what needs to be done on our own. Don't get me wrong, he is always with us, but like any good parent; he wants his children to be able to stand on their own.
I have come to understand this hard truth in the past few years, and have wrestled with it sporadically. But once I accepted the fact that God wants me to be strong, things got easier.
Now, I don't pray for God to give me strength. I pray for God to give me an opportunity to be strong.
Philippians 4:13
"I can do all this through him who gives me strength."
I have heard this verse cited all my life, and I look at it now with new eyes. God does give us strength as Paul states in Philippians, but I think he does it by giving us the opportunity to be strong. To learn from our mistakes, to develop and grow. Not just as a human being, but also as a child of the Lord.
Psalm 46:1
"God is our refuge and strength, an ever-present help in trouble."
Psalm 46 is another very resounding verse about God being our strength. I look at this verse like this. A parent is teaching their child to ride a bicycle. The parent holds onto the back of the bike and reassures the child that they are there. But at some point, the parent must let go so the child can ride the bike on their own.
Yes, the child might fall down a few times, and God, like a good parent, is there to pick them back up. Our "refuge" like Psalm 46 says. But the parent gives the child a chance to try again. A chance to be strong and to learn from past mistakes and events. A chance to grow and adapt. A chance to succeed. God doesn't want to see his children fail, or hurt.
Yes, you might stumble. Yes, you might fall. But he will always be there to help you back to your feet and to give you a chance to be strong. Atheists will try to use a phrase like," God doesn't want to see his children fail, or hurt…" to their advantage. Using the rebuttal of, "… then why does God let children be murdered?" or "why does God let millions of people die in wars?"
God gave us, humanity, the human race, his children; Free Will. What we do with it is up to us. Mankind is imperfect and born into a world of sin. Our actions create the world around us. So, my answer to the atheists here would be the sinful actions of others are just more opportunities from God for us to be righteous and strong, and to put a stop to them.
We can all be strong in life and strong in the Lord. We just need only stay faithful and give the Glory to God in all things we do. Be righteous, be holy, be strong. The Lord will give you ample opportunity to do so if you just let him guide you.
God Bless!