Biden says Israel not to blame for rocket attack on Gaza hospital that left 500 dead: 'Done by the other team'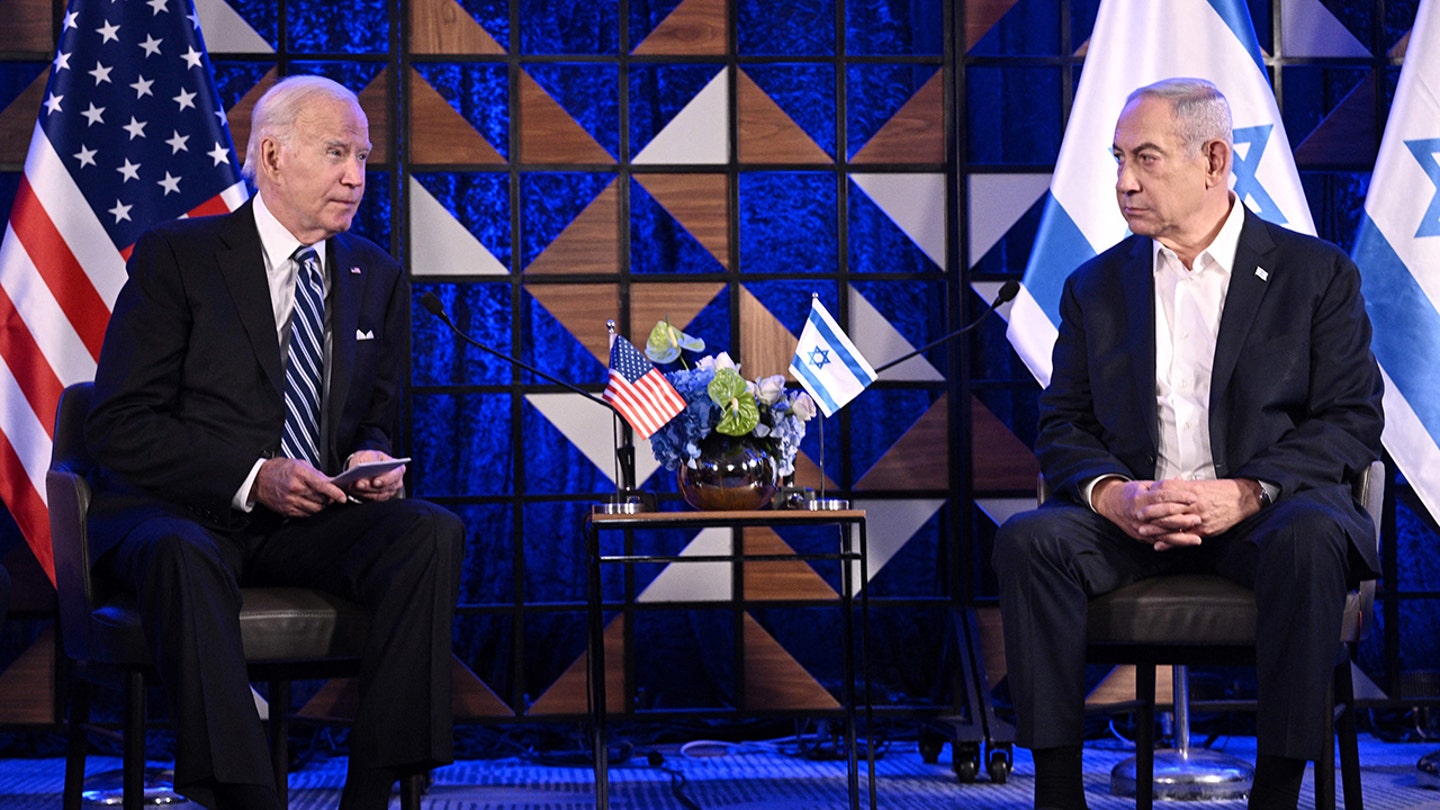 On Wednesday, President Biden was in Israel. He held a short press conference alongside Israeli Prime Minister Benjamin Netanyahu.
Both leaders emphasized the deaths, Hamas' atrocities, and the impact of the conflict on Israeli children.
Biden said that Israel was not responsible for the rocket attack in Gaza on a Gaza hospital, which resulted in at least 500 deaths.
"I was horrified by the bombing that occurred at the hospital yesterday. According to what I saw, the other team was responsible. Biden told Netanyahu, "Not you." But there are a lot people who don't know.
Biden said: "The whole world is watching." Israel shares the same values as the United States and other democracies, and they are watching to see what Israel will do.
Netanyahu was the first to speak at the press conference, praising Biden for becoming the first U.S. President to visit Israel in a time of war.
"On the 7th of October, Hamas killed 1400 Israelis and possibly more. It is a country with less than 10 million citizens. It would be the equivalent of over 50,000 Americans being murdered in one day. That's 20 9/11s. "That is why we will never forget October 7th," he said.
Netanyahu added: "I would like to thank you both for your presence here today, and for the unwavering support you have given us during these difficult times. Support that reflects the overwhelming desire of the American people. "I've seen the support you have given me every day, and the level of cooperation we have enjoyed since the start of this war. This is a level that has never been achieved in the history between our two countries."
He continued: "We can see your support, and we know that you are committed to providing Israel with the weapons it needs to defend itself. We can see your support and the message that you are sending to our enemies, telling them not to test us. You send two American carrier battlegroups to the area. "Back up these words with action."
"Above everything, Mr. Presiden, the world has seen that support and moral clarity you have shown from the moment Israel had been attacked. Netanyahu said, "You've drawn the line between forces of civilization and forces of barbarism with clarity." You describe Hamas' actions as pure evil. "It is just that."
The Israeli Prime Minister also asked the President to imagine the Israeli children's thoughts when Hamas fighters invaded their homes and discovered their hiding places.
"Hamas killed children in front their parents, and parents infront of their children. They burnt people alive. Women were raped, murdered and burned alive. He said that the soldiers beheaded to search for secret hiding places, where parents kept their children. Imagine, Mr. Presiden, the terror and panic that these little children felt in their final moments when the monsters found out where they were hiding. Hamas abducted women, children and Holocaust survivors. "I know that you are outraged by this and you also share our resolve to return these people."
Biden responded. Biden responded.
Both left the conference without responding to any questions. Biden will meet with Israeli leaders privately.
The president made his comments after the Hamas-run Gaza Strip hospital, which was a hospital for wounded Palestinians as well as a shelter for many others was attacked and exploded on Tuesday. Hundreds of people were killed.
Gaza Health Ministry reported that at least 500 deaths occurred at al-Ahli Baptist Hospital, Gaza City. Many people are still trapped under the rubble.
Hamas disputes the cause of the explosion, claiming it was caused by an Israeli airstrike. Israel Defense Forces (IDF), blamed the attack on Islamic Jihad.
The IDF responded that it was investigating earlier today the cause of the explosion. It noted that the hospital was a "highly-sensitive building" and "not a target for the IDF."
After an investigation, IDF released its findings regarding the source of the strike.
IDF officials stated that an analysis of IDF operations systems indicated that terrorists fired a barrage rockets from Gaza. The rockets passed close to the al-Ahli (Baptist) hospital in Gaza when it was struck. We have intelligence from multiple sources that Islamic Jihad was responsible for the failed launch of rockets which hit the hospital.
An international summit originally scheduled for Wednesday was canceled due to the attack. The summit was to include Biden, Jordanian Abdullah and Egyptian Abdel-Fattah el-Sissi as well as Palestinian Authority President Mahmoud Abbas.
As attacks on civilian targets such as schools, hospitals and other civil institutions are heavily criticized, the international community is continuing to demand information about what caused this explosion.