Border Patrol highlights more than 4,000 'gotaways' following end of Title 42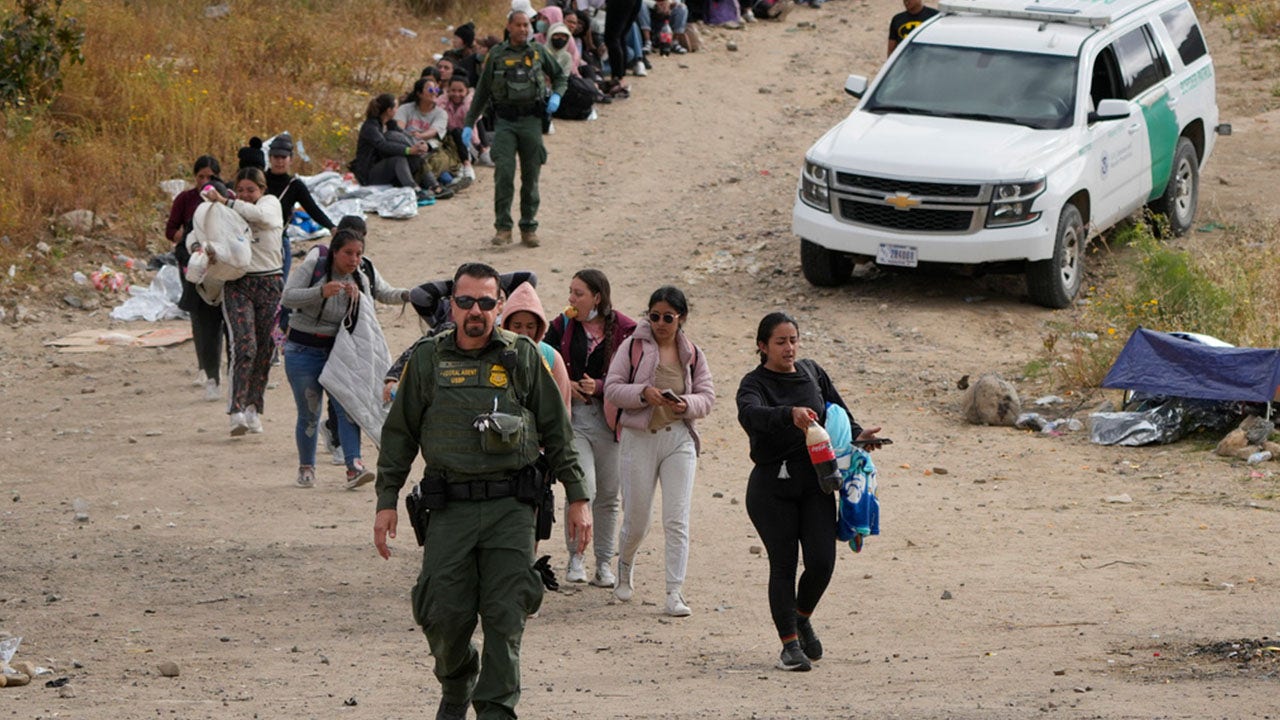 Raul Ortiz, the United States Border Patrol chief, revealed on Monday approximate numbers for apprehensions at the southern border and "gotaways", following last week's termination of Title 42.
Ortiz tweeted early on Monday morning that three agents were assaulted in the last 72 hours. He also said 14,752 individuals had been arrested and 4,316 "gotaways", had been reported.
Ortiz revealed that agents had also seized four pounds of marijuana, one pound of cocaine and nearly $60,000 in addition to encountering five sex offenders and one wanted felon. One pound of cocaine, four pounds of marijuana and nearly $60,000. Five sex criminals were also arrested, as well as one wanted felon.
Title 42, the immigration restrictions relating to the pandemic of coronaviruses, expired at midnight on Thursday. New enforcement measures in the United States took effect on Friday.
The number of migrants at the southern border in the days following has dropped by 50%, compared to the 10,000+ encountered every day during the three days preceding the end of Title 42.
Officials in the United States caution that it is too early to make any firm conclusions.
Blas Nunez Neto, Assistant Secretary for Border and Immigration Policy at Homeland Security, stated that "we are closely monitoring what is happening." We are confident that our plan, which we developed in the U.S. Government to deal with these flows, will be successful over time.
Nunez-Neto gave credit to the U.S. plan as well as the enforcement measures Mexico, Guatemala and other countries have taken in recent days on their southern borders. He also said that the number of migrants held in U.S. custody has decreased "significantly" from last week, but remains high.
Title 42 gave U.S. officials the power to expel migrants quickly without allowing them to seek asylum. However, it did not carry any consequences for those who had entered the country but were expelled. The U.S. took tough enforcement measures in the run-up to Title 42's end to discourage people from coming to the border and encourage them to instead use the paths the U.S. created to facilitate immigration.
Title 42 was still in effect when many migrants came to the United States, fearful of these strict enforcement measures.
It is unclear whether the U.S. can release migrants into the United States without a notice to appear. This includes a court appearance and some form of monitoring by immigration officials. It can take two hours for a Border Patrol officer to process one person. This could cause the Border Patrol to be overloaded when holding facilities are full.
Since 2021, the U.S. often releases migrants with instructions to return to an immigration office within 60 days. The process takes just 20 minutes but has been criticized by critics who claim it does not provide enough oversight. A Florida court put a temporary stop to the process on Friday. The administration has appealed that decision.
In a preliminary order, the judge narrowed Monday's order to only apply to migrants who claim they intend to remain in Florida until the court date.
In a court filing last week, U.S. officials said that they could not confidently estimate the number of people who will cross into Canada. Matthew Hudak said that authorities expect arrests to spike between 12,000-14,000 per day.
Bill Melugin, a Fox News reporter, challenged Karine Jean-Pierre on Monday for denying U.S. Customs and Border Protection's (CBP) "encouragement or allowing of mass release of migrants."
He pointed out that, on just Thursday, over 6,000 migrants had been released without a court appearance and that the Biden Administration was arguing before federal courts that these releases were necessary.