Hunter Biden threatens to sue Roger Stone and demands apology for 'defamation': Report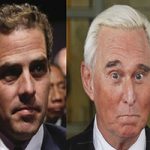 Hunter Biden has reportedly threatened to sue Roger Stone and even advance further legal action if Stone does not apologize for comments he made that Biden deems "defamation."
Biden's attorney Abbe David Lowell sent a cease and desist letter to Stone due to Stone's remarks on his Stone Zone podcast, where Lowell alleges the conservative commentator made "disparaging or false statements that would amount to defamation" of President Joe Biden's son, the Floridian reported.
Stone's comments, taking place during an episode titled "Garrett Ziegler and Tyler Nixon Expose Hunter Biden's Dirty Secrets surrounded Hunter Biden's laptop," surround the contents of said laptop that the president's son left at a Delaware computer repair shop in April 2019.
"He actually transported via Amtrak ..three women from Boston to New York City in December of 2018 ..who were about 19 to 24 across State lines for sex," Garrett Ziegler, operator of the website MarcoPoloUSA.org, said.
The cease and desist letter accuses Stone of violating federal and Delaware state law by "hosting discussions with Garrett Ziegler about unverified personal data that you were told belonged to Mr. Biden and claiming Mr. Biden committed 'sex crimes.'"
"To avoid litigation, if possible, we write to provide you with an opportunity to mitigate the harm that your conduct and/or statements have caused Mr. Biden," the letter continued, demanding Stone return any data "purporting" to come from any anything belonging to Biden, publicly retract his "baseless" allegations of illegality, as well as issue an apology to Biden. Lowell's letter asked Stone to respond to the letter by March 31.
Even if not in reply to Lowell himself, it didn't take Stone quite that long.
"Surprisingly, Hunter Biden's extremely expensive high-powered lawyers have now sent me not only one, but two threatening letters, neither of one makes much sense," Stone told the Floridian.
"Everything I know about Hunter Biden's laptop I read in the New York Post or Breitbart News or online at the Marco Polo USA Foundation, which has published all the contents of Hunter Biden's laptop. Everything I know is in the public domain and from public sources," the ally of former President Donald Trump continued. "Hunter Biden is a public figure under New York Times v. Sullivan. The laptop contents can be contained by any American. I will not be threatened into silence."
Just last week, Biden filed a counterclaim against the Delaware-based computer repairman who handled his laptop. The lawsuit, targeting John Paul Mac Isaac and a few of those he shared the laptop data with, alleges that the repairman improperly obtained and disseminated Biden's private information without his consent.
It was filed in response to an October 2019 defamation lawsuit from Isaac and others and represents Biden's greatest push yet against those who obtained the information found in his laptop that he left at a computer repair shop in the spring of 2019. The laptop became a hot-button topic just before the 2020 election.
Biden's suit calls for six counts to be raised against Isaac and several others with whom he shared the data: invasion of privacy by intrusion, invasion of privacy by publication of private facts/matters, conspiracy to invade privacy by intrusion, conspiracy to invade privacy by publication of private facts/matters, aiding and abetting an invasion of privacy by intrusion, and aiding and abetting intrusion of privacy by publication of private facts/matters. The first son is seeking a trial by jury.
Central to the countersuit's argument is a citation of Delaware law, allegedly saying that abandoned property cannot be considered another person's property until a period of one year, rather than 90 days, as Isaac alleged. It also says that the law holds that a procedure must be carried out through the courts to become a proper owner.
The data in the laptop was found to be 100% authentic, according to Konstantinos "Gus" Dimitrelos, commissioned by the Washington Examiner, a former Secret Service agent and cyber forensics expert. Hunter Biden has admitted that the laptop left at the shop belonged to him.