Kim Jong Un meets Putin in Russia, vows "unconditional support" amid Moscow's assault on Ukraine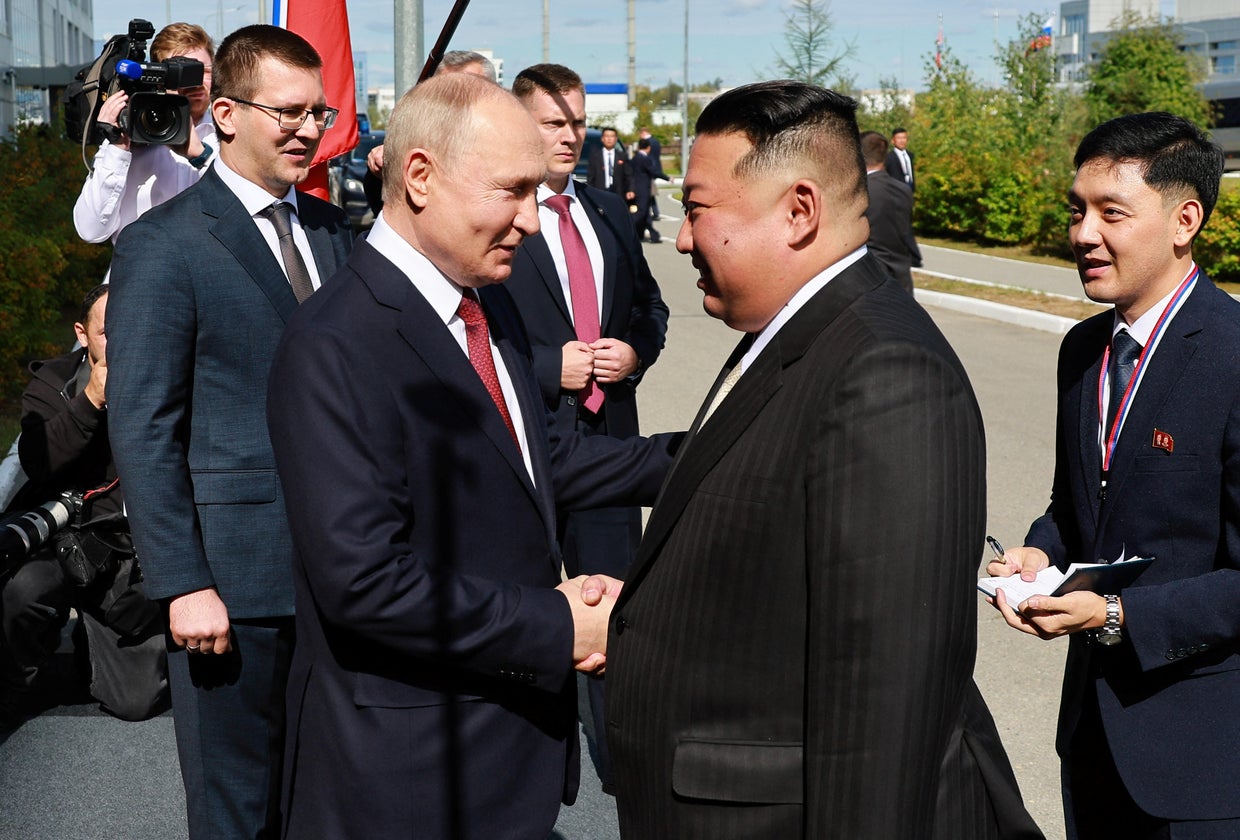 Kim Jong Un, the North Korean leader, told Russian President Vladimir Putin that his country would "fully and unconditionally" support Russia in its "sacred battle" to protect its security interests. This was an apparent reference to war in Ukraine. Kim Jong Un said that North Korea will always be with Russia in the "anti-imperialist front".
The meeting of allies at a remote Russian launch facility was held amid growing concern that the two countries, both heavily sanctioned, may strike an agreement to exchange satellite and weapons technology. This could give Putin a major boost in his stumbling war in Ukraine while also propelling North Korea closer to its goal of launching spy-satellites into orbit and acquiring a long range nuclear missile capability.
Kim said North Korea's relationship with Russia was his country's "first priority", while Putin stated that despite United Nations restrictions on the supply of weapons to Kim's nation, he still saw "opportunities" for cooperation.
They met for two hours in a remote rocket launch site in Siberia for a summit. The meeting was to show how their respective countries are aligning their interests as they face intensifying tensions with the United States. Officials said that they continued the talks later in various formats for four to five more hours.
Kim said to Putin during an official dinner after their one-on-one meeting: "We're confident that the Russian people and army will triumph in the just battle against evil groups who seek hegemony and expansion." Kim also praised "heroics" Russian soldiers in remarks that were interpreted by news agencies sponsored Moscow as being specifically related to Moscow's ongoing attack on Ukraine.
North Korea test fires more missiles
The meeting took place hours after North Korea launched two ballistic rockets into the sea. This was the latest in a series of provocative weapons tests by North Korea since 2022. Kim had used the distraction created by Putin's conflict with Ukraine to speed up his weapons development.
The Joint Chiefs of Staff of South Korea said that the short-range missiles from North Korea flew 400 miles per missile.
The Joint Chiefs of Staff issued a statement in which they said: "We condemn North Korea's successive missile launches, as an act of serious provocation, that undermines peace and stability on the Korean Peninsula, as well as international communities, and is a clear violation to U.N. Security Council Resolutions. We urge it to be stopped immediately."
North Korea wants satellites and weapons technology, as well as food
The decision by Moscow to host the Kim-Putin Summit at the cosmodrome – Russia's largest domestic satellite launch facility – suggested that Kim was looking for Russian technical assistance in his efforts to create military reconnaissance satellites. He has said these satellites are crucial to enhancing his nuclear-capable rockets. North Korea has failed repeatedly to launch its first military spying satellite in recent months.
According to the Unification Ministry of South Korea, official photos show Kim with Pak Thae Song (chairman of North Korea's Space Science and Technology Committee) and Adm. Kim Myong Sik (navy), who are both linked to North Korea's efforts to acquire spy-satellites and ballistic missile subs that can carry nuclear weapons.
Putin, when asked whether Russia would assist North Korea in building and launching satellites, was quoted as saying by Russian state-run media "that is why we are here."
"The DPRK's leader has shown a keen interest in rocket technologies." He said that they were also trying to develop space. Putin responded that they would discuss all matters without hurry, when asked about the military cooperation. There is still time."
According to a senior South Korean official who spoke with CBS News, Seoul is concerned that Pyongyang may seek nuclear submarines and satellites in exchange for weapons and ammunition needed for Putin's ongoing conflict in Ukraine.
Imtiaz Tyab, CBS News' correspondent reports that Kim's impoverished country needs more than just advanced technology. It's looking for allies and food aid after years of diplomatic isolation, crippling U.N. sanction, and cold, hard money.
According to Russian news agencies, Deputy Foreign Minister Andrei Rudenko stated that Russia could discuss humanitarian assistance with the North Korean delegation.
Putin wants arms for his Ukraine War
Putin greeted Kim's limousine at the launch site with a 40-second handshake. The vehicle was brought to Pyongyang by the North Korean leader in his special armored train.
Putin saw the meeting as an opportunity to replenish ammunition stocks that had been depleted by the war, which lasted 18 months. Analysts say that North Korea could have tens or even hundreds of millions of artillery shells, rockets and other weapons based on Soviet designs. These would be a great boost for the Russian army fighting in Ukraine.
Kim brought Jo Chunryong, an official of the ruling party in charge of munitions policy, who accompanied him to recent tours of factories that produce artillery shells or missiles.
North Korea's official media agency reported Wednesday that Kim claimed his decision to return to Russia four years after a previous trip showed Pyongyang "prioritizing strategic importance" in its relations with Moscow.
A deal on arms would be in violation of international sanctions which Russia has supported previously.
When asked about the possibility of an arms agreement with Kim following their meeting on Wednesday Putin replied that Russia "complies to international obligations" but there are still opportunities for cooperation within the rules. He did not elaborate about any agreement discussed.
Lim Soo-suk of the South Korean Foreign Ministry said that Seoul is maintaining communication with Moscow, and closely monitoring Kim's visit.
At a press briefing, Lim stated that "no U.N. Member State should violate Security Council Sanctions against North Korea through an illegal trade in arms and must definitely not engage in military co-operation with North Korea which undermines the peace and security of the international community."
The United States accuses North Korea of selling weapons to Russia, including artillery shells sold to the Russian mercenary Wagner group. Both Russian and North Korean officials have denied these claims.
After Russia's Defense Minister visited North Korea in the month of July, speculation about military cooperation increased. Kim then toured his arsenals, which