US Conducts Second Round Of Retaliatory Airstrikes In Syria As Attacks On Troops Rises To 41
In a statement, Secretary of Defense Lloyd Austin stated that the U.S. carried out a second round retaliatory strikes on facilities used by Iran's elite military in Syria and groups backed by Iran.
Fox News reported that at least 41 attacks by Iranian-backed militias against bases in Iraq or Syria where U.S. soldiers are stationed were confirmed on Wednesday. Fox News reported that the retaliatory strike marked the U.S.'s second attack on Iranian-linked facilities and their proxy militias following the wave of drone and rocket attacks which began Oct. 17.
Austin stated in the statement that "this precision self-defense attack is a reaction to a number of attacks by IRGC Quds Force affiliated forces against U.S. military personnel in Iraq and Syria." The President's priority is the safety of U.S. military personnel. He directed today's strike to make it clear that the United States would defend itself, its personnel and its interests.
The statement stated that President Joe Biden ordered the airstrikes in eastern Syria against weapons storage facilities used to store the Iranian Islamic Revolutionary Guard Corps and its affiliated militias. The airstrikes were conducted by two U.S. F-15 jet fighters.
Cheerleaders for Terror
It's time for corporate America to stop subsidizing antisemitism. First, they subsidized hatred of America, but now they are subsidizing the terrorist actions of Hamas. Now's the time for action. We've produced the ad. We've got it on the air. Now we need your help to keep it running until BLM's purse strings are finally cut. Fight back against the hate today!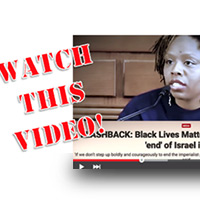 "The United States are fully prepared to take any further measures necessary to protect our people, and our facilities. We strongly urge you to avoid any further escalation. "U.S. personnel continue to conduct counter ISIS missions in Iraq, Syria and other parts of the Middle East," he said.
Pentagon Press Secretary Brig. Gen. Pat Ryder described the operations on Monday as "repeated harassment attacks of drones or rockets". At least 46 personnel suffered injuries, including brain injuries, minor injuries from shrapnel and headaches, and perforated eardrums.