Xi Jinping Calls for Immediate Israel-Hamas Ceasefire as U.S., U.K. Stand with Israel
Xi Jinping, the Chinese president, has come out to support an immediate Israel-Hamas truce. This is a break from the Western leaders who visited Israel this week and voiced their full-throated backing for Israel's efforts neutralize the terrorist group.
According to Chinese state-run media, Xi stated that the top priority is to achieve a ceasefire in as short a time as possible to prevent the conflict from spreading or spiraling out of hand and causing a severe humanitarian crisis.
Chinese officials said that they are willing to work together with Egypt and their Arab allies in order to find a solution to the conflict. Xi said that both sides compromising over the establishment of an independent Palestinian state is the "fundamental solution". The Hamas-occupied Gaza Territory is currently under Israeli occupation after the terrorist group slaughtered more than 1,400 people during its October 7th invasion.
Israel's military responded with airstrikes and dropped more than 6,000 bombs in Gaza last week. Although no ground offensive has begun yet, Israel has mobilized a record-breaking number of reservists. Active duty troops have also begun to mass on the Gaza border.
Cheerleaders for Terror
It's time for corporate America to stop subsidizing antisemitism. First, they subsidized hatred of America, but now they are subsidizing the terrorist actions of Hamas. Now's the time for action. We've produced the ad. We've got it on the air. Now we need your help to keep it running until BLM's purse strings are finally cut. Fight back against the hate today!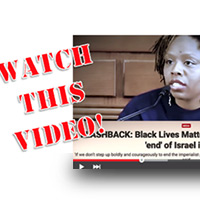 Rishi Sunak, the U.K. Prime Minister, visited Israel on Thursday to express his solidarity with President Isaac Herzog and Prime Minister Benjamin Netanyahu amid an intensifying conflict. Sunak said to Netanyahu, "I am proud to stand by you as your friend in Israel's darkest hours. We will stand in solidarity with you, we'll stand with your people and we want you win."
Sunak hopes that his two-day trip will bring "more support" after Israel has agreed to allow humanitarian aid to flow across the Gaza/Egypt borders. The update was announced by President Joe Biden during his visit to Israel on Wednesday. He also pledged $100 million of U.S. humanitarian aid for more than 1,000,000 Palestinians living in Gaza and West Bank.
This funding will support more than a million people affected by conflict and displacement with clean water, food and hygiene assistance, medical care and other essentials. A White House press release stated that the United States offers humanitarian assistance via trusted partners, including UN agencies and international non-governmental organizations. Hamas is not responsible for the horrific terrorist acts of civilians and they should not be punished. "Civilian lives must be safeguarded and urgent assistance must reach those who are in need."
Biden made his announcement after Israel had ordered the evacuation of civilians from northern Gaza and cut off supplies to the area, both actions which the United Nations considered inhumane.
A U.N. spokeswoman said that those who had complied with Israeli authorities' orders to evacuate were now trapped in southern Gaza Strip with little shelter, rapidly depleting food, and no or limited access to clean drinking water, sanitation, medicines, or other basic necessities.