Soros-backed St. Louis attorney refuses to charge Cinco De Mayo shooting suspect on lack of evidence: reports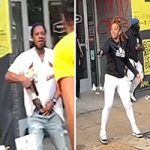 According to reports, police in St. Louis Missouri said that a woman arrested for her alleged involvement in a shooting over the weekend is no longer being held in custody as the St. Louis Circuit Attorney's Office has refused to press charges.
Amber Booker (33), according to FOX 2, was arrested on Saturday evening by the St. Louis Metropolitan Police Department as part of an investigation into the shooting that occurred at the end a Cinco De Mayo festival.
The police shared two images of the suspects. One image showed a woman, suspected to be Booker. Another picture was of a male. Both pictures show the suspects holding guns.
The police department informed the news station that Circuit Attorney Kim Gardner's Office refused to file charges due to a "lack" of evidence for each charge. The prosecutor's office said that the victim also refused to cooperate with the investigation.
Booker was charged with two counts each of assault in the first degree and armed criminal activity.
Gardner's office said to Fox News Digital that they are "working closely with the police in this ongoing investigation". "We are unable to comment at this time."
Around 7:30 pm on Saturday, as the party was winding down on Cherokee Street, gunfire broke.
Police say a man suffered a graze on his upper thigh, and a female victim was shot in her leg. Both victims were transported to a hospital nearby and are in stable conditions.
Investigations revealed that the victims were watching men fight at an intersection from a distance when one suspect began waving a gun. Booker is said to have fired a shot as the incident escalated.
The male suspect, who was shot, was wearing a Cardinals' jersey, a white undershirt, light-blue jeans with tears at the knees, and white sneakers.
The Missouri Attorney General attempted to remove her from her position for allegedly failing to perform her duties.
Gardner received the support of liberal billionaire and Democrat Mega-donor Soros for her reelection in 2016 and in 2020.
Gardner's tenure as city attorney was rife with allegations of misconduct and mishandling cases. One of these led to Gardner being publicly reprimanded by the Missouri Supreme Court and fined.