Utah Lawmaker's Home Vandalized After Introducing Bill to Ban Transgender Surgeries on Children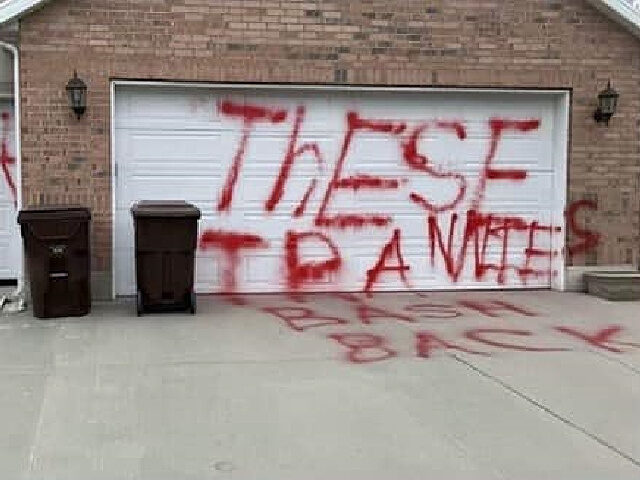 The home of a Utah Republican state lawmaker was allegedly vandalized, after he presented a bill that would ban minors from undergoing transgender surgery.
In red spray paint, the message on State Senator Mike Kennedy's door read "Fash", (acronym for Fascist), and "These trannies bash-back." Kennedy posted about the vandalism to Facebook.
In his blog, he wrote: "To those who try to intimidate me, or use violence and vandalism to stop me from standing for what's right, I want to be clear that you will fail." "I won't be intimidated by your cowardly acts. The vandalism of my family home is not only an attack on myself, but also on the principles that our state represents. "We will not allow fear and violence to control our destiny."
Kennedy urged Utahns to "stand up against radicals" who are trying to impose their agenda on our state.
He concluded, "I'm more determined than ever before to work with Utah's good people to make the state a better one for everyone, especially our kids, and I will not back down."
Fox News reports that Kennedy was the sponsor of "SB16," legislation which bans transgender surgery and puberty blocking devices for minors. This bill was signed into law eventually by Gov. Spencer Cox was arrested in January.
Fox News reported that "Legislation like Utah's SB16" has been passed in at least eleven states. This is part of a national movement led by conservatives, who claim transgender medical treatment is unproven and dangerous for children.
In a statement, the Utah LGBTQ activist group Equality Utah – which opposes SB16 – denounced Kennedy's vandalism.
"We don't know who was involved in this act, but it may have been a retaliation against his sponsoring of SB 16," the group said. Equality Utah condemned the act, and any other acts of violence or vandalism, against public officials that are related to LGBTQ advocacy.
These heinous actions do not benefit LGBTQ Utahns. "They do not promote a climate for equality", Equality Utah said.
Other LGBTQ activists have been less tame when it comes to their criticism of lawmakers who oppose minors having transgender surgery. Breitbart reported that Montana Democrat Zooey Zéphyr, a transgender man, said recently that a ban on transgender surgery for minors could lead to "bloodshed".
Zephyr said, "This body should feel ashamed. If you vote 'yes' on this bill, and if you vote a resounding YES on these amendments, I hope that the next time you pray, or bow your head, you will see the blood in your hands."