Rep. Greene Adds Biden to Articles of Impeachment List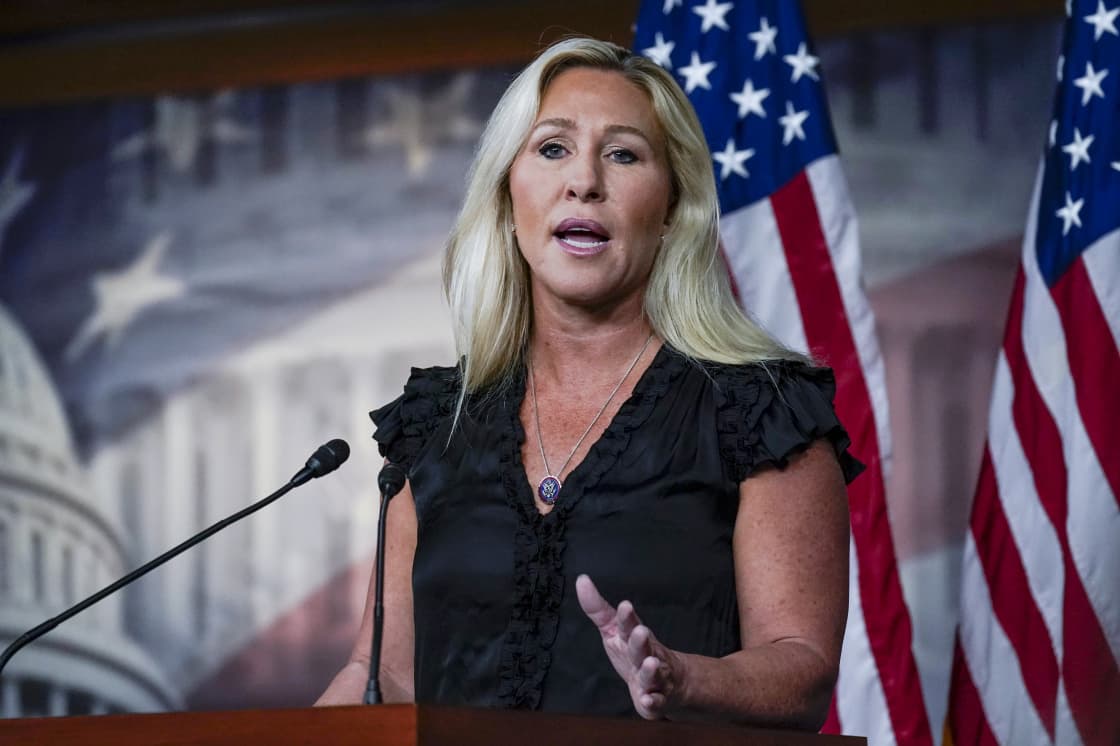 Rep. Marjorie Taylor Greene (R-Ga.) has released a number of articles of impeachment against FBI Director Christopher Wray and Attorney General Merrick Garland. She also intends to include Homeland Security Secretary Alejandro Mayorkas.
Greene said in a press conference on Thursday that he would introduce articles of impeachment against the head of America's last executive branch that had been working to destroy the United States since January 20, 2021. The president of the United States is Joseph Robinette Biden.
Joe Biden, by refusing immigration laws to be enforced and securing our border, has compromised our national safety. He allowed six million illegals to enter our country from more than 170 different countries, and deprived Border Patrol the resources and policies necessary to protect our nation. His administration has also refused to maintain operational controls as required by law.
Greene did not release her text of the articles to impeach Biden, unlike the other articles. However, she seemed to read the charges during the press conference.
Greene said on Newsmax's John Bachman Now later Thursday that "impeachment" is "the tool we've given" to "basically terminate people who aren't doing their jobs."
She cited Rasmussen Reports' poll, which showed that 71% of Republican voters wanted Joe Biden to be impeached and that 53% of Americans believed that he was guilty of serious crimes and misdemeanors.
Greene said to host John Bachman, "That's staggering." But the shocking thing is that 35% of Democrat Voters believe Joe Biden has committed high crimes and misdemeanors.
Greene blamed Biden for the deadly fentanyl epidemic that kills "around 300 Americans each and every day" at the press conference.
Greene added, "These are not just Americans; these are family members of people." These are their sons and daughters, brothers, sisters, mothers, fathers, cousins, aunts and uncles. These are American Families."
White House spokesperson Ian Sams dismissed Greene's article as a'shameless' sideshow and "trolling' of the president. He used the Democrats' "extreme MAGA' trope to smear the political opposition."
Sams said in a press release that "is there a more shameless sideshow of a political stunt than an impeachment trolling attack by one the most extreme MAGA Members in Congress on 'national Security', while she actively demanded to defund FBI and even stated she 'would've won' the January 6 insurrection had she been in charge?"
"The President is focused on what matters to the American people. He's not worried about silly political attacks, but rather preventing the House Republicans default, which would have crashed the economy, and protecting investments, which create American manufacturing jobs.
Greene stated that Mayorkas, Wray, and other targets on her list are the most impeachable. She added, "I explained the reasons why I was doing this," and "they did not tell me what to do, they simply asked me about the method, the legality, and things related to the Constitution."
Greene stated, "I respect the Republican leadership and want to work with colleagues in my conference."