White House Official: Biden's Migration Is an Economic Strategy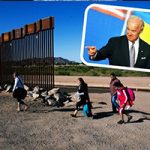 A senior official from the White House says President Joe Biden's immigration plan is designed to create new jobs in government programs, high-tech companies, and the economy is growing.
"We are creating new jobs this year as we're breaking ground on key infrastructure projects under the President's bipartisan infrastructure law, the CHIPS and Science Act, [and] new green jobs as we implement the Inflation Reduction Act," stated Katie Tobin, the senior director of transborder security at the National Security Council, adding:
As the economy expands it will require more workers, which we don't have enough of. Therefore, it is it's in our best interest to bring new people into the workforce and remain at the top of the market.
"In closing," Tobin declared on May 15 "the Biden-Harris administration appreciates both the moral responsibility and the strategic opportunity that migration presents — it's at the heart of our domestic and our foreign policy agendas."
Tobin's stealth policy of government-accelerated economic migration could be described as Saudi-style migration, corporatist migration, or perhaps the "Any Willing Worker" strategy pushed by George W. Bush in 2004, said Mark Krikorian, director of the Center for Immigration Studies. He continued:
It is acting as a staffing agency that is a service for American businesses … The administration clearly supports big corporations and members of the Chamber of Commerce, and employers who aren't willing to raise wages which would be detrimental to everyday employees. It's their choice however it must be clearly stated what they're making and the interests they're serving.
Tobin is an ex- D.C.-based official with the United Nations High Commissioner for Refugees. She was a speaker at an event on May 15 at the investor-owned American Enterprise Institute.
Tobin's admission that immigration is being used as an economic strategy is radically different from mainstream media's coverage of immigration as a chaotic human issue.
The border-drama stories are also a way to conceal the enormous amount of legal immigration approximately one million a yearas well as the massive influx of visa-holders that result in an estimated 1.5 million foreign white-collar workers working in U.S. jobs.
Tobin's remarks are also legally significant because Biden's lawyers attempt to defend Biden's claim of "legal pathways" as humanitarian aid to refugees, asylum seekers, and parole emergency situations. However, Tobin frequently described the flow as a flow of economic migrants seeking work and higher standard of living:
We're incredibly interested in … expanding opportunities for legal options for immigrants from America. United States and … making it easier for them to gain access to the legal channels. To simplify things we believe that there are three main reasons for people to want to move in America. United States.
One: To be able to compete economically We have plenty of jobs. We also have better wages than many of other countries within the area.
Two: Family reunificationA large number of people have [job-seeking illegal migrantsfamily members here, and have been separated for a while. They would like to be with their families, and
Three: Protection. As we mentioned in the last presentation there are a lot of people fleeing persecution, fleeing povertyand hardships in their home countries, and are looking for safe haven within America. United States.
Tobin did not consider the competing strategy of developing trade with the poor in countries with democracies that are not their own or the diplomatic approach to establish democracy nations which autocrats limit trade. Tobin said:
"Root causes" work is very difficult … The work we've done has been extremely difficult. achieved lots of work to get funds into the hands of Central AmericanCivil Society organisations, the citizens who are themselves, but we've witnessed a decline in democracy in these countries. There are worries about corruption. The corruption issues get into the way, and this complicates the process and our administration isn't willing to shut its at these problems. This makes progress slow. In other countries, where we're witnessing a significant outflow of immigrants there's only a small diplomatic space to make any progress.
This is a good thing to U.S. investors who say that the influx of renters, consumers and workers is more beneficial than trade since their investments abroad are exposed to risk from the political system in emerging countries.
In Tobin's words, the "kind of extraction migration doesn't even really have the likelihood of creating any kind of circular benefits for" countries that are poor. nations, said Krikorian:
What you're doing is taking away the people are needed for growth … They are the kind of people who would like to move on and leave sort of attitude, the type of people who start a small-scale business in their community or be mayor candidates to get rid of the local police department, that sort of thing. If they leave, what remains are children or old folks, as well as the deadbeat brothers-inlaw ….
Your [deplorablecountry by exporting your principal resource, humans — and then importing a part of their income for a short time until the money ceases. It's not a viable strategy for developing.
However, Tobin stated that the government invests in the stable nations which host a lot of migrants heading towards America. United States:
We believe that the best possibility of a return on investments for investors in U.S. economic terms, is by investing in middle-income countries of the region, which already have a an extensive history of cooperation. Countries such as Colombia and Ecuador and Peru, Costa Rica.
With the help of their additional U.S. funding, these nations can assist in helping the U.S. control the flow of migrants across the deadly Darien Gap, up through Central America, and into the United States, according to Tobin. She added:
These are countries with long-standing traditions of welcoming neighbors, they have solid legal frameworks, and have fairly healthy economics … Our opinion is that they believe that with more investment from members of the world community, these nations are able to be significant actors in this larger context of managing the flow of migrants. They could host these people as well as provide them with the right to legal residency for a period of time or permanently. and we believe that's ideal for many of the migrants.
In April, for instance, Tobin told reporters that the U.S. government would work with Columbia and Panama to take on smugglers of migrants who take people through the risky Darien Gap between Colombia and Panama. However, the crackdown isn't meant to stop the flow of migrants. flow, she added:
The joint campaign we have signed an agreement to launch in conjunction with Panama as well as Colombia has been centered around coordinating combating human trafficking and human smuggling. Therefore, we will concentrate on increasing the number of arrests, prosecutions, as well as other measures to stop human trafficking. That's why that's the primary focus.
The U.S. already pays Panama to guard migrants who travel through in the Darien Gap, and it provides buses to transport migrants from Panama to into the United States. This program forms part of the federal Government's "controlled flow" transfer program.
As of now so far, it appears that the U.S. has spent roughly $9 billion to help countries help migrants, including those heading for in the United States, she said.
Tobin's desire to bring migrants to The United States is very different from the previous Democratic Party which worked with unions to stop employers from importing sub-par and cheap labour. Krikorian declared:
I'm not able to explain the procedure but for those who are right, the open border are an unassailable requirement as a litmus test. It does not matter what happens to these countries that are poor because it hurts their chances of development and that it weakens them. It doesn't matter whether it affects American workers.
All of it is irrelevant because open migration is an absolute requirement for these individuals.
Tobin's proposal for government-funded migration can also stop the growth of a labor market that is tight that will boost Americans' productivity and wages Krikorian added.
A strict labor market is an effective social policy however, it also provides a boost to innovation that saves labor … With the influx of immigrants] we bring workers to do tasks that remain similar to those of in the Middle Ages even though tighter market conditions would encourage the modernization of tasks such as harvesting raisins, or any number of number of industries.
In 2020 the president Donald Trump burst the cheap labour bubble caused through Congress with a bipartisan vote in 1990 to increase the flow of immigrants. This bubble reduced wages and boosted welfare spending which allowed investors to make money from low-productivity employment including hotels and restaurants. Biden is the president. Biden is currently inflating this bubble, by taking in as many as 4 million people from southbound borders.
Tobin sketched out the White House plans to accelerate immigration of foreign workers to American workplaces by 2023.
"In year two and now year three, we are starting to make some really big moves and announcing a lot of new legal pathways," she added. For instance the administration has said it will establish 100 centers for migrants where foreigners are able to apply into United States. United States, often via the refugee program provided by Congress.
Tobin stated:
Another important goal of the Biden-Harris administration is trying to not just build up the U.S. Refugee Admissions Program, but to also improve and simplify it. The aim is that we utilize the refugee authority of legislation governing immigration to allow refugees from all over the world as well as Syrians, Ukrainian. But as a lot of you are aware, historically, it could take a few years 2-5, 10 years to be resettled. This is not enough.
So we've been trying to cut down on the time it takes and to add efficiency in the adjudication of refugee resettlement and reduce it from an annual process, to one or two weeks.
And we believe that is suitable approach to some of the urgent refugee crises which will be a reality in the near future.
This is the plan we have for the Western Hemisphere that we're actually planning to pursue to achieve this process of processing refugees faster.
The application of humane parole is often a case where we can justify using it when there is a pressing humanitarian need or substantial public benefits. We would rather employ refugee resettlement. It's a more lasting solution for refugees. The refugees come with permanent status and can bring their families. It's a long tale and we'd prefer refugee status as a means to parole, if given the opportunity.
Tobin also stated that Tobin also said that the White House is also trying to reformulate the widely-abused non-immigrant visa programs – particularly, the H-2B visa program, which is for about 150,00 seasonal workers and the H-2A program, which is not capped, for workers in agriculture:
There are too many bureaucraticprocedures. It's a bit complicated, I believe for workers — the one in Honduras who is looking to and work in the agricultural sector and farming in America. United States — and the farmer in the U.S. … It also confers a bit too much power to the employers.
It's better, she added:
to have a non-business sponsor — that is, someone who is willing to accept foreign workers], support them to settle in the United States however, they are not required to be their employer. the next step is to have someone immediately gain access to a work permit upon arrival so they are able to immediately contribute to the economy.
U.S. media outlets have stopped any discussion about the economic effects of immigration particularly over the financial damage that it causes to American families. For instance, establishment journalists who report on migration seldom talk about the administration's economic policies despite the fact that the country's head of the border, Alejandro Mayorkas, has repeatedly brought the issue to their face.
For instance On January 8th the 8th, an White House reporter asked Mayorkas: "What is your message to the American public about the impact of a labor shortage in America?" Mayorkas was quick to respond by calling for an even more skewed view of the country's labour market in favor of investors and employers:
The problem of labor within the United States is one powerful illustration of the urgency we must fix the broken system of immigration. We take a look northern part of the country … Canada realized that it had a 1 million-person labor shortage. they're bringing in around 1.4 million people this year to fill that shortage of labor.
Our programs including our H-2A, H-2B, and our skilled worker programs — are out of date to truly meet the needs of the economy as well as the business opportunities for migrants which immigration could bring.
The 11th of May a White House reporter asked Mayorkas about the cost to taxpayers of emigration. Mayorkas did not answer the question, and claimed that U.S. investors should be permitted to hire cheap labor from countries with poor economies -like Columbia within South America — instead of being compelled to be competitive with American blue-collar and white-collar workers in a more equal U.S. labor market:
Let me flip that query around … We'll change it to correspond with the question an international partner has asked of me. The question the international partner asked me was 'What's the economic burden for your convoluted immigration process? Since there are many businesses in the country who are looking for workers There is … needy people from other countries who are searching for work at America. United States, where they can earn money legally and send much-needed money to their home countries. What is the price of a flawed the immigration system? is the question I'm being asked, and that's the question I ask to Congress as it is extremely high.
"There's no question that some Republicans will succeed in making this case [agianst Biden's] immigration, but they're going to have to up their game," Krikorian added. In the GOP campaign slogan "too often is limited to the border disaster … But if you fix the border, then what?"
"That's something that some Republicans have been talking about — I think more now than before — but they still have a ways to go," said the politician. declared.
Extraction Migration
Federal government officials have for decades employed an unpopular economic policy known as Extraction Migration. This kind of colonialism-inspired policy snatches huge quantities of human capital from poor countries, slash the benefits of trade, and utilizes the immigrants' workers, renters and consumers to expand Wall Street and urban economies like New York.
The influx of immigrants has reduced Americans wage levels and raised prices for housing and rents. This has also forced numerous native born Americans out of work in a variety of industries and has led to the increasing deaths of the poor Americans.
The lethal policy also steals jobs and wealth out of the heartland states by providing coastal investors by providing an influx of low-wage workers renting high-occupancy homes, as well as taxpayer-funded consumers.
The increase in population also decreases the influence of native-born Americans since the process of replacement of the population allows elites to separate themselves from the demands and concerns of everyday Americans.
In a number of speech, Mayorkas claims that he's creating a system of mass migration that will deliver workers to wealthy investors and employers as well as "equity" to poor foreigners. Our border laws are subordinate to the opinion of elites regarding "the values of our country," Mayorkas declares.
Migration, and in particular labor migration is not a favorite in the eyes of those who are swing voters. A majority of 54 percent Americans believe that Biden allows an invasion of the southern border, according to a survey conducted in August 2022 that was commissioned by the left-ofcenter National Public Radio (NPR). A 54-percent "Invasion" majority included 76 percent of Republicans as well as the independents at 46 percent as well as 40 percent Democrats.