Trump to CPAC: In the 'Battle of Our Lives' to Rescue US, Party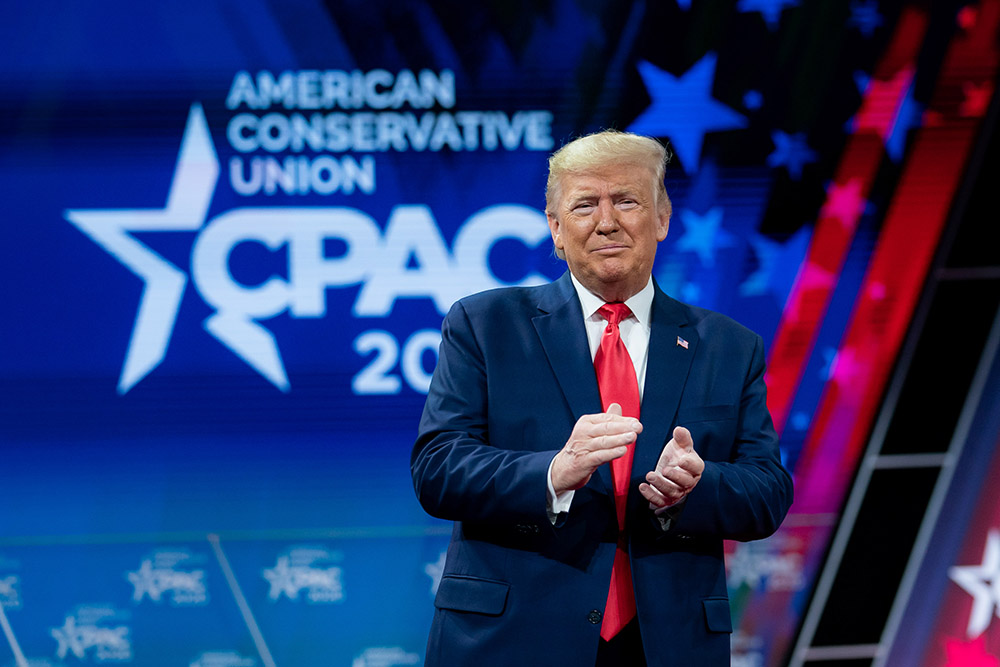 In his eagerly awaited speech Saturday night at the Conservative Political Action Conference, former President Donald Trump spoke about the "battle of our lives" against Democrats and establishment Republicans. He told an enthusiastic crowd that they had been involved in an "epic struggle to save our country from those who hate it and want it to be destroyed completely."
He also claimed that the Republican Party would never go back to the party founded by Karl Rove and Paul Ryan.
Trump stated that the Republican Party was run by "freaks, neocons and globalists who are open border zealots and fools." "We are not returning to those who want to destroy our great Social Security System, even some within our own party. I wonder who it might be that wants the minimum age for Social Security to be raised to 70, 75 or 80, and cut Medicare to a level that will make it unrecognizable."
Trump declared, "We're in a Marxism State of Mind, a Communism State of Mind."
He said, "The sinister powers trying to stop me and silence you, and transform this nation into a Socialist dump ground for criminals and junkies, Marxist terrorist thugs and radicals that no other country wants."
Trump stated that he had often said the United States would never be a socialist country.
He said, "I said it once during the State of the Union address and people didn't understand what was I saying." "But I shouted it loudly and I was right, because that train has already passed the station of socialism long ago. It didn't even come close to stopping."
Trump stated that "our enemies are determined to stop us" because they know we are the only one who can stop them.
Trump stated that he would finish the work he started by returning to office. We will complete this mission. We will see this fight through to the end. We will make America great again.
He promised, "We will destroy the deep state." "We will expel all the warmongers. They don't get it. However, they do get it in certain cases. They are able to get it for their pockets. We can't allow that to happen. That can't happen. We will expel the globalists. We will expel the communists. We will get rid of the political class which hates our country.
He also promised that he would beat the Democrats. We will expose and appropriately deal with the fake news media. He stated that we will expose the [Republicans in names only] RINOs and deal with them appropriately." Joe Biden will be removed from the White House. We will free America once and for all from these villains, scoundrels, and we will do it in style.
He said that Republicans will not return to a party which wants to give "unlimited funds to fight foreign wars", but is demanding cuts to veterans' and retirement benefits.
He promised that "our soldiers would no longer live on the streets of our town." "Legal immigrants are welcomed into our country, and they are housed in the Waldorf Astoria as well as many other top-rated hotels around the globe. We do not care for our soldiers. They go to bed at night and freeze.
Trump stated that the Trump administration and Congress are focusing on the needs of the rest of world, rather than those at home.
Trump said that he would not allow the country to be ruled by "entrenched political dynasties" in either party, including "rotten special interest, China-loving politicians." This is what you're hearing. Mitch McConnell, you're listening."
He also attacked the "militant left-wing media," who he said is afraid to tell the truth or are truly evil in bed. I don't know. They're scared, I think. You never know when we will change our minds.