Jane Fonda Suggests 'Murder' In Response To Overturning Of Roe V. Wade
Jane Fonda appeared on "The View" Friday, suggesting that murder was an appropriate response for Roe v. Wade's overturning. Fonda did not respond to a cohost who said Fonda was "just kidding."
The co-hosts of ABC's talk show spoke to the 85-year old actress during an awkward segment about the recent U.S. Supreme Court decision that overturned Roe V. Wade in Dobbs/Jackson Women's Health Organization. As previously reported, the ruling acknowledges that abortion is not a constitutional right and returns the matter to the states.
Fonda shared, "We have had many decades of agency over our bodies. We have been able to decide when and how many children we want."
She said, "We know how that feels and we know the impact that it has had on our lives." "We are not going back, I don't care about the laws. We are not going back.
Cheerleaders for Terror
It's time for corporate America to stop subsidizing antisemitism. First, they subsidized hatred of America, but now they are subsidizing the terrorist actions of Hamas. Now's the time for action. We've produced the ad. We've got it on the air. Now we need your help to keep it running until BLM's purse strings are finally cut. Fight back against the hate today!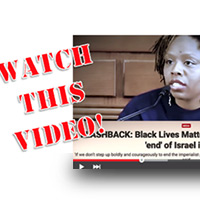 Sonny Hostin smiled at Fonda and said, "That's an activist." She will probably win the Nobel Prize."
Fonda exclaimed, "It's truth, it's the truth," "We're gonna fight."
Joy Behar asked Joy further about the options for pro-abortion activists, and the "80 For Brady" star replied "murder."
Fonda said, "Well, that's what I thought of murder," before Lily Tomlin, her "Grace and Frankie", co-star, asked her to repeat it.
The "9 to 5" star of "Murder" explained the story once again, and the audience and co-hosts burst into laughter.
Behar said Fonda was "just kidding." Wait a second. They will pick it up and run with it. She's just kidding."
As Fonda waited to see if she was serious, the camera took a close-up of Tomlin. The camera panted over to Tomlin, but she gave an inexplicable stare that left viewers and audience wondering if she was serious.
Hostin directed the discussion towards the Hollywood star's well known activism, and the panel moved on.