More emails show Hunter Biden's involvement in White House affairs while father was vice president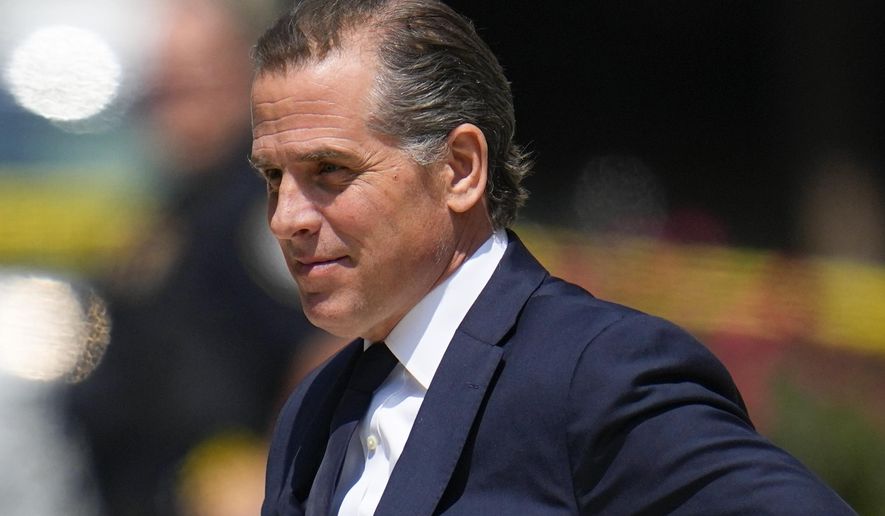 A search of President Biden's official email records from his time as vice president has uncovered more than 1,000 emails between his office and Rosemont Seneca Partners, the business development company owned by son Hunter Biden and an associate who helped rake in millions of dollars for Biden family members.
The emails, released by America First Legal, show that Hunter Biden was closely involved in planning critical White House events. He never held an official government role while his father was vice president.
Among the events were the January 2011 China state luncheon, the June 2011 arrival ceremony for the German chancellor, the March 2012 Britain state dinner and visit, the May 2013 Turkey state luncheon, and the 2014 France state dinner, which Hunter Biden attended.
A public records request and a lawsuit filed by America First Legal has yielded hundreds more emails sent or received to the office of the vice president from Hunter Biden's company, Rosemont Seneca.
The conservative-leaning foundation has received from the National Archives and Records Administration more than 1,000 emails between Hunter Biden's company and Mr. Biden's vice presidential office. Foundation officials say the emails show that Hunter Biden was using his access to the White House "to benefit those involved with Rosemont Seneca."
The National Archives is withholding more than 5,000 White House emails from congressional investigators seeking messages using aliases for then-Vice President Joseph R. Biden. Archives officials said the Presidential Records Act requires approval from Mr. Biden and former President Barack Obama before providing them to Congress.
Mr. Biden used at least three email aliases while serving as vice president, and House investigators sought access to the messages as part of their probe into whether he engaged in illegal influence peddling.
The Washington Times reported in July on one such email, sent in May 2016 from Mr. Biden's assistant to Hunter Biden at his Rosemont Seneca email address, alerting the vice president's son to an upcoming call between Mr. Biden and Ukrainian President Petro Poroshenko.
At the time, Hunter Biden was paid a million-dollar annual salary to serve on the board of Ukrainian energy firm Burisma, which was seeking Mr. Biden's help in staving off a corruption probe.
In response to a public records request, the National Archives released the email looping in Hunter Biden to the Poroshenko call.
The White House has blocked the National Archives from releasing 200 emails from that period under the Presidential Records Act. It claims the messages would "disclose confidential advice" between Mr. Biden and his advisers.
Hundreds of other emails were cleared for at least partial release, and they document regular correspondence between Rosemont Seneca and the White House office of the vice president.
In one email sent in June 2013, Hunter Biden wrote from his Rosemont Seneca email address to request a White House tour for the mother and daughter of his business associate at Third Point LLC, a hedge fund run by Democratic billionaire donor Daniel S. Loeb.
According to America First Legal, emails found on Hunter Biden's abandoned laptop computer showed Rosemont Seneca was working with Third Point to raise "billions of dollars from China's sovereign wealth fund, CIC."
In a December 2013 email, Katie Dodge, an executive assistant at Rosemont Seneca, wrote to Kellen Suber in the office of the vice president asking for "a Christmas Miracle" and a "Big favor for Hunter" by ensuring a lobbyist friend of Hunter Biden's business partner Eric Schwerin could secure a last-minute White House tour to see the holiday decorations.
In an August 2013 email, Ms. Dodge wrote to Kerry J. McNellis, a new staffer in the office of the vice president, seeking a letter from Mr. Biden on behalf of a business associate, Timothy Stanton of HSA Commercial. Mr. Stanton wanted the vice president to write a letter commending an elderly World War II Navy veteran.
In her mail to Ms. McNellis, Ms. Dodge wrote, "Welcome to the team, Kerry!"
A spokesman for Mr. Biden did not immediately respond to a request for a comment about the emails.
Stephen Miller, president of America First Legal, said he will continue to seek more emails from the National Archives that he believes will show corruption in the Biden vice presidency. Mr. Miller was a top adviser to President Trump.
"As a result of our FOIA and subsequent lawsuit against the National Archives, we will continue to receive large tranches of emails, which we can only assume will document yet further evidence of massive corruption at the highest levels of government," Mr. Miller said. "We will also litigate the White House's assertion of executive privilege to redact and conceal hundreds of records from public view that involve Hunter and Rosemont Seneca, an outrageous abuse and coverup."