Six Antifa Extremists Arrested, Charged with Domestic Terrorism in Fiery Atlanta Riots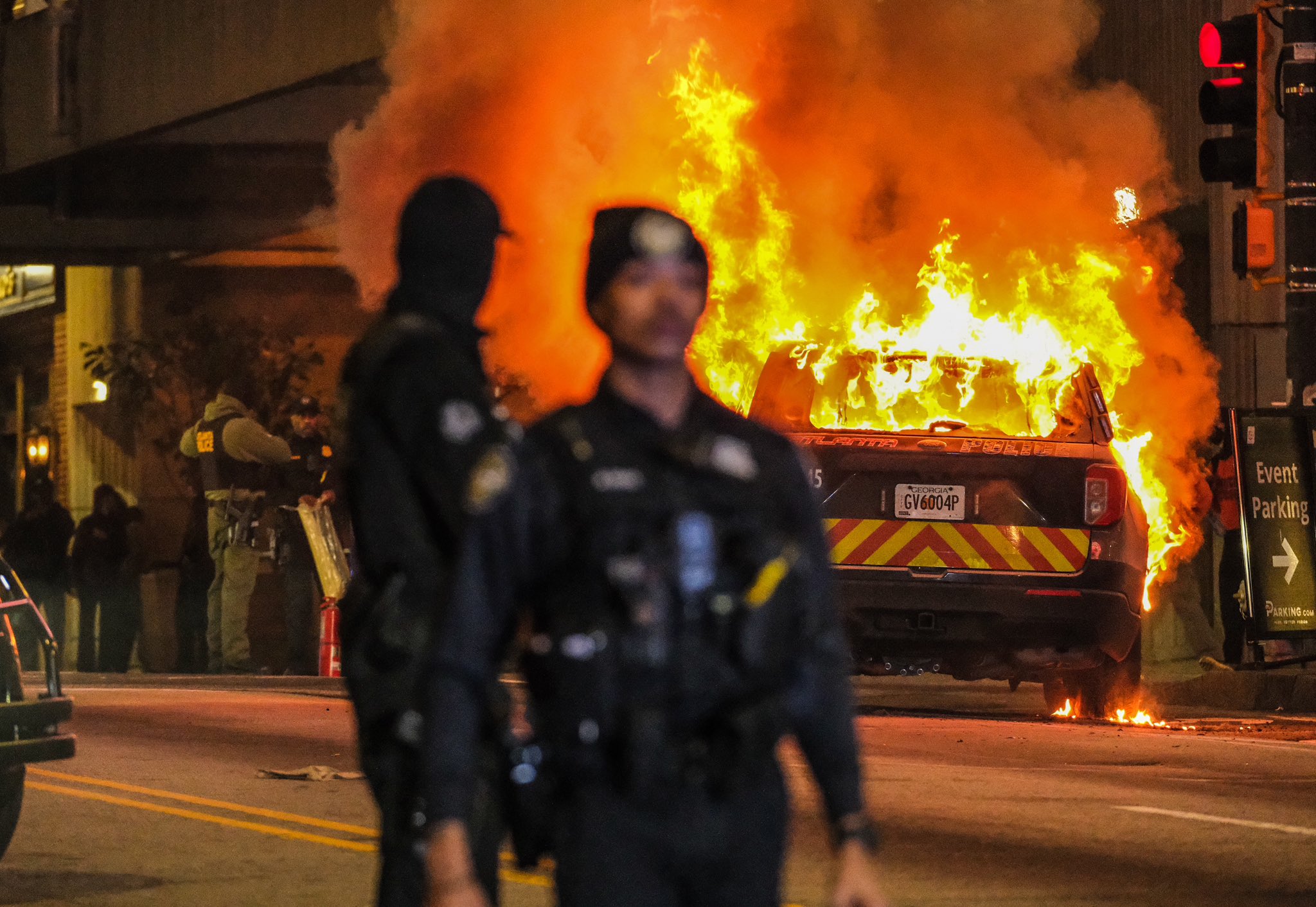 Atlanta police arrested six people on Saturday night for domestic terroristic offenses. This was in response to violent riots by Antifa activists, who broke windows and destroyed a car. They also vandalized walls with graffiti.
After Manuel Esteban Paez Teran (or "Tortuguita") was killed in a confrontation with police, protestors poured into Atlanta.
Five of the six arrested were from outside of the state where they could cause chaos. According to Andy Ngo, an investigative reporter, Francis Carroll was arrested on bail for domestic terrorist acts and is the son a wealthy Maine family.
Atlanta Police Chief Darin Schierbaum strongly condemned violence. "We can now tell, early in the investigation, that this wasn't the focus tonight just for damaging the windows of three buildings, and setting a police car on a fire," Schierbaum stated during a press conference. "The intention was to cause more harm than it did, but that didn't happen."
Brian Kemp, the governor of Georgia, echoed similar sentiments and condemned the demonstrations.
"Violence or the unlawful destruction of property is not a form of protest. These are crimes that Georgia will not tolerate and will be prosecuted thoroughly," Kemp tweeted Saturday night.
Teran was part a group that opposed the construction of an Atlanta Police Department training center. Their campaign was dubbed "Stop Cop City" by the group.
"Destroying material is fundamentally different to violence. According to a spokesperson for anti-police campaign, all reported acts were explicitly directed against the Atlanta Police Foundation's financial backers and goons. This shady nonprofit funnels weapons and military equipment into the city to wage war upon black and brown people."
A previous police raid to clear protesters from the site was violent. According to the Georgia Bureau of Investigation Teran shot and killed an officer. Law enforcement had to fire back.
Teran's mother Belkis challenged the story that Teran was violent and killed first. Belkis, who lives and works in Panama, stated that she would travel to the United States to protect Manuel's memory. "I am convinced that he was assassinated cold-blooded," Belkis, who lives in Panama, said to The Guardian.
Similar demonstrations took place in Boston Saturday night as well as the Antifa riots of Atlanta. After the December 2022 shooting death of a student at a university, protesters destroyed a monument on the Boston Common and attacked a police officer.
The son of Katherine Clark (D. Mass. House Minority Whip), was arrested during violence. During the violence, he was taken into custody