Trump ignores GOP rivals and stolen election claims in 2024 presidential announcement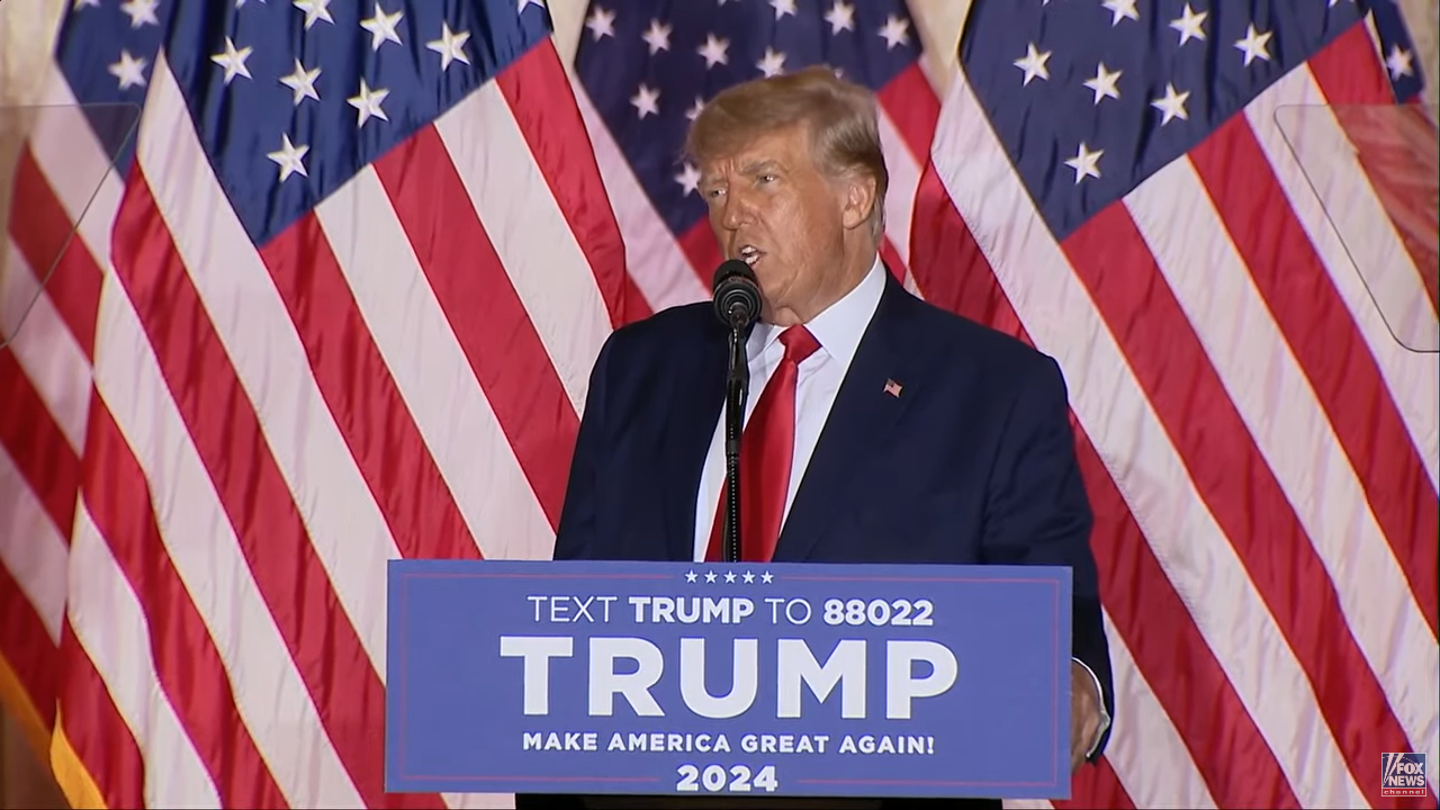 Trump, the former President of the United States, announced Tuesday his candidacy for 2024 as president. He spoke in a fiery speech but did not mention his GOP opponents. His message was clear and distinct from traditional rallies.
Trump spoke at a time when many Republicans are distanced from him following the disappointing midterm elections. Even GOP lawmakers who have been supportive of Trump in the past hoped that Trump would wait to announce until after Georgia's Senate runoffs. They feared that Trump's rhetoric might cause divisions and bring down GOP candidate Herschel Walk.
Trump's speech was subdued in comparison to his traditional campaign rallies and avoided intra-party sniping or denials about President Biden's victory in 2020. It did not mention "Ron DeSanctimonious", Senate Minority Leader Mitch McConnell (R-Ky.), or any other rivals Trump had pursued in recent days via his "Truth Social" account.
Instead, he was primarily focused on promoting himself as the one to solve the problems plaguing the U.S. in Biden's leadership.
Trump spoke to an enthusiastic crowd, which included members of his inner circle, and they chanted "Trump, Trump" at different points.
Trump stated, "To make America great again and glorious again,"
Trump touched on many of his most important issues, including illegal immigration and drugs. Trump also called for new legislation, including a limit on congressional term lengths, stock trading regulations for federal lawmakers, and bans on lobbying for ex-members of Congress and Cabinet.
Trump attacked Biden over his withdrawal from Afghanistan and claimed that the U.S. was a laughingstock. He also attacked Biden's assistance to Ukraine in the war against Russia.
Trump said that Afghanistan was the "most embarrassing moment in our country's history." We lost Americans, we left behind Americans and we surrendered $85 Billion of the most advanced military equipment in the world.
Trump stated, "Unlike Biden potentially getting us into World War III which could seriously happen," and added, "I will keep America from foolish and unnecessary foreign wars."
He did however see a bright future for the United States, should he be reelected.
Trump stated, "I am running because the world has yet to see the true glory of this nation,"
He said, "We will heal and unify our people through extraordinary success." "We will destroy the forces of tyranny and unleash the glory of liberty for ourselves, our children and future generations. America's golden age lies ahead.
There were many Trump loyalists in the crowd, including Ric Grenell and Roger Stone, Tony Bobulinski and Mike Lindell. Jason Miller, Boris Epshtyn, Devin Nunes, Jason Miller, Jason Miller and Jason Miller.
Many of Trump's relatives were also present, including his wife Melania and his children Lara and Eric, as well as his son-in law Jared Kushner.
Trump's announcement as the president comes several months ahead of traditional White House candidates who traditionally make their presidential bids. Some House races remain uncalled, while the Georgia runoff is weeks away.
Trump also took on some of his past grievances. Trump complained that the media had not covered his 2022 congressional endorsements' success rate and claimed that China interfered with the 2020 election. He attacked Christopher Steele, his discredited dossier and complained about the FBI raid at his home.
Trump spent only a few seconds on these issues before moving on to the main point. Trump also attacked mail-in ballots, but he didn't address the false stolen election claims.
Trump won the presidency against Hillary Clinton in 2016. He would be the second president to regain the White House, surpassing Grover Cleveland's feat in 1892.
Trump has repeatedly challenged the legitimacy and validity of the 2020 election results. He claimed that the COVID pandemic-era mail-in ballot process was a factor in the race being "rigged." Trump's legal team has filed numerous lawsuits in battleground states throughout the country.
Former president was heavily involved during the midterms and he backed Republican candidates across the country. The majority of Trump-endorsed candidates won the primaries. However, many of Trump's most important endorsements were defeated in the general election. This included candidates for Senate and Governor.