Jerusalem bombings: Teenager killed in rare twin attacks at bus stops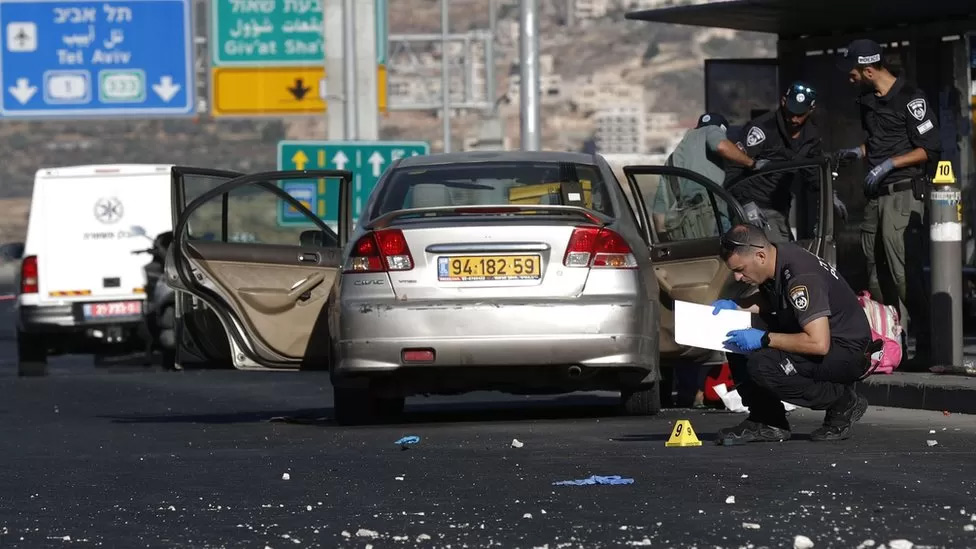 According to Israeli police, a 16-year old boy was killed and 14 others were injured in bomb blasts at Jerusalem bus stops.
As people headed to work, the explosions occurred in two areas near the city's outskirts.
Israeli media reported that the teenager who died was a religious student from Israel-Canadian named Aryeh Supak.
At one point, Israel's interior security minister stated that this was the "most serious attack we've seen in a while".
In a year of increasing violence, the atmosphere in the city is volatile. Israeli military raids have killed civilians and gunmen in the occupied West Bank.
It is one of the most important attacks of its type in recent years, as it sees the return to explosives in Jerusalem.
None of the groups involved in the attacks has claimed responsibility. The Palestinian militant groups Hamas, Islamic Jihad and Islamic Jihad praised the perpetrators.
Just after 07:00 GMT on Wednesday, the first explosion occurred in Givat Shaul.
Israeli medics claimed that 12 people were injured in the blast, including the teenager who later died at Shaare Zedek Hospital.
A second explosion occurred in Ramot Junction about 30 minutes later. This is an additional entrance to the city. Three people sustained minor injuries.
The pavement was littered with debris at the site of the initial explosion. The site was sealed off by masked Israeli security personnel, and the bicycle pieces were placed in forensics bags.
A man from the Jewish ultra-Orthodox neighborhood opposite said that he felt his building shake when he woke up. Many of the people waiting for buses were from the neighborhood.
Young Israeli men held a sign calling for revenge and protested the small demonstration.
Sigal Bar Zvi (Deputy Commissioner), head of Israel's police operations division said that the bombs were made from "high-quality" explosives. They were placed behind a wall at bus stops and in a bush.
She said that the nature of the attacks suggests that investigators believe they were orchestrated by an organised cell.
Israeli media reported that security sources claimed that the devices were made of nails and had likely been remotely detonated.
Kobi Shabtai, the Police Commissioner, said that the attacks were unlike anything seen in recent years.
Officers searched "all possible hazardous areas", including bus stations and crowded areas, for additional bombs, and "made an effort to find the perpetrator of this terrorist attack".
Two decades ago, bombings were part of the second Palestinian intifada. Since 2016, Jerusalem hasn't seen one.
Yair Lapid, the country's outgoing Prime Minister, convened a special meeting to discuss security issues.
Israeli President Isaac Herzog stated that the terror attack would not weaken them, and will not make it difficult for us to believe in our ways or our right to a peaceful, safe life in Israel, which includes our eternal capital, Jerusalem.
These attacks are coming as Benjamin Netanyahu, Prime Minister-designate, and his Likud party continue to negotiate for a new coalition government that includes allied far-right parties and religious parties. In an election focused on security, they won a majority of seats in parliament.
As he visited victims of the attack in hospital, Mr Netanyahu said that "we still have a battle with cruel terror which raises its head again." "We will do everything to restore security for all Israeli citizens as quickly as possible."
Itamar Ben Gvir, ultra-nationalist Otzma Yuhudit (Jewish Power), party leader, visited the site of the first explosion. He declared that Israel must take steps to stop Palestinian attacks.
He said, "Even though it's in West Bank, lay siege and go from one house to the other in search of guns and restore deterrence power."
Canada's Ambassador to Israel Lisa Stadelbauer said that she was "heartbroken" to confirm the death of a young Canadian in this morning's terrorist attack in Jerusalem.
"Our sincere condolences go out to his family, friends, and all those who were hurt in this attack. Canada continues to condemn terror of any kind.
Tom Nides, the US ambassador to Israel, tweeted that a 18-year old Israeli-American named Naomi Pilichowski was one of those who were injured in the "heinous terrorist attacks". Her father, Rabbi Uri Pilichowski (educator and author), said that she had received a minor cut.
Karine Jean-Pierre, White House spokesperson, stated that the US had condemned the terrorist acts in Jerusalem and offered all assistance to Israel's government to investigate the incident and bring the perpetrators to justice.