UN climate conference sketches tentative agreement to fund climate endangered countries
A group of countries from the United Nations Climate Change Conference (or Conference of the Parties), reached a tentative agreement to establish a "loss-and-damage" fund to aid countries that are vulnerable to climate change.
The measure, which was not officially ratified by the participating countries and lacking in details, marks a breakthrough in negotiations between rich and poorer countries to prevent the ramifications from climate change.
"30 years of patience. It is finally here. It's done. A new Fund for responding to Loss and Damage in developing nations is YES. … This is a moment of greatness and a win for all peoples. Head of delegation have agreed," Alpha Kaloga (a negotiator in Guinea) tweeted.
The Guardian reported that the European Union delegation had been refusing to accommodate demands for the fund for nearly two weeks. But, Friday's news brought a reversal. Despite having been hostile to similar proposals in the past by the United States, John Kerry, the U.S. special presidential Envoy for Climate, recently contracted COVID-19 and has expressed openness to the plan.
Cheerleaders for Terror
It's time for corporate America to stop subsidizing antisemitism. First, they subsidized hatred of America, but now they are subsidizing the terrorist actions of Hamas. Now's the time for action. We've produced the ad. We've got it on the air. Now we need your help to keep it running until BLM's purse strings are finally cut. Fight back against the hate today!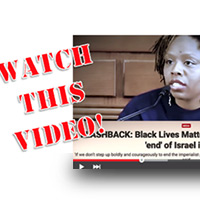 The draft text states that the fund would be available to developing countries "that are especially vulnerable to the adverse consequences of climate change." However, details about the logistics surrounding the fund remain to be worked out.
On the proposal, the EU delegation reached an agreement with 134 developing countries. The EU had to define a "developing country" as a problem. According to the Hill, China is classified under the 1992 framework for fighting climate change.
According to the Hill, other fraught issues, such as the phasedown of certain fossil fuel development types, are still open for negotiation. This is despite the possible opposition from Saudi Arabia.
Originally, the COP27 was scheduled to take place from Nov. 6 through Nov. 18, but overtime has been called in as delegated continue to work on issues.