Democrat NC Governor Declares 'State of Emergency for Public Education' over School Choice Plan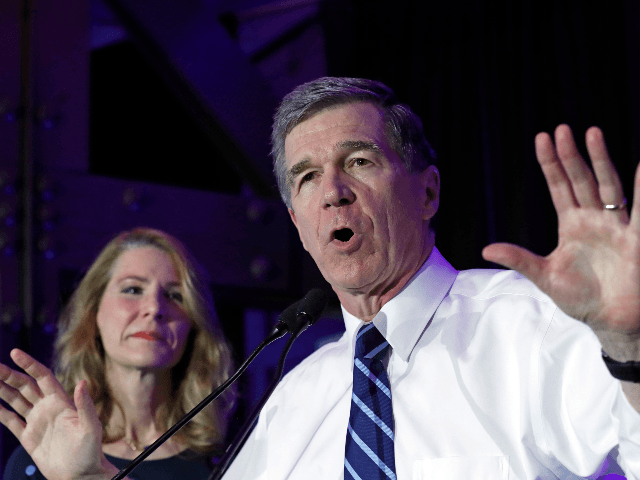 Democrat North Carolina Gov. Roy Cooper (D), declared on Monday a "State of Emergency for Public Education", in response to a Republican-led initiative to expand the state's voucher program for private schools.
Cooper said in a video posted on social media that Republican legislators are "dropping a nuclear bomb on public school education" by extending voucher eligibility to all K-12 students. The governor said that the expansion would result in "steep cuts" to public school funding.
It's obvious that the Republican-controlled legislature wants to choke off the life of the public education. This is a situation that I am declaring a state emergency, because you must know what is happening. Cooper stated that if you care about North Carolina's public schools, it is time to act immediately and to tell them to stop causing damage to our schools.
According to NC Newsline, voucher critics "complain about the religious indoctrination, exclusion of LGBTQ students, and discrimination against parents and LGBTQ students." They also complain that private schools receiving taxpayer money are not accountable for their academic results, like charter schools or traditional public schools.
But supporters, like Democrat-turned-Republican state Rep. Tricia Cotham, say the program will help families place their children in schools that are a better fit for them. Cotham co-sponsored an identical House bill.
Cotham criticized Cooper in a Monday tweet, saying, "the real emergency is that the governor is advocating systems instead of students themselves."
She said, "Education does not come in one size fits all and NC families need to be able to choose the best education for themselves." My bill to expand NC Opportunity Scholarships, to allow NC families to choose, will be soon on his desk and waiting for his signature. Governor, NC children are waiting for you! "Stop the political theatre and put children first!"
The News and Observer noted that Cooper's announcement comes at a time when Republican legislative leaders are negotiating a budget agreement for the state over the next two-year period.
According to the report, "the GOP has a supermajority in the legislature. It can adopt a budget plan and other legislation with or without Cooper's approval."
Cooper said in his address that he believes the proposed budget does not increase teacher pay enough, and this could exacerbate the current shortage of teachers. Cooper also accused Republicans of "bringing their political culture wars" into classrooms, pointing to recent "extreme legislation" passed by the House or Senate which protects parental rights and female sports teams and shields children from being indoctrinated with left-wing gender ideologies.
The House also considers asking voters to approve an amendment to the Constitution that would allow members of the State Board of Education to be elected, instead of being nominated by the governor.
Cooper said in his speech that if they got their way the State Board of Education would be replaced by political hackers who could dictate what was taught in public schools. "North Carolina Schools need rigorous science and reading classes. Not more politicians controlling our children's education with book bans and elimination of science lessons, and more."
North Carolina House Democrats praised Cooper's special speech on Twitter and accused Republicans of funding "not classrooms" but companies.
House Democrats wrote: "It is time for the NCGOP stop prioritizing the millionaires and start investing in NC's kids."
Cooper's office says that Cooper will travel to the entire state this week to meet community leaders and to "raise public awareness of the dangers of the bills being considered by the NC General Assembly." He will also "ask the community to demand more and to join the fight," his office said.
Randy Brechbiel is a spokesperson for Senate Leader Phil Berger. He said that "meaningless public relations stunts" do not improve the education outcomes of our state.
Brechbiel stated that the House and Senate would continue to work together in order to develop budget proposals that meet the needs of parents and students.
Cooper's apparent hypocrisy was also criticized by other critics of the governor and advocates for school choice. According to the Education Freedom Institute Cooper sent his child to an "expensive private school" in Raleigh.
Corey A. DeAngelis, a school choice advocate, tweeted: "BREAKING – North Carolina Governor Roy Cooper has declared a STATE of EMERGENCY in order to combat school choice." "This hypocrite sent a child to a private education." "We're liberating families from the grasp of the teachers' unions for good & he has nothing to do about it."
Former North Carolina Lieutenant Governor Mark Robinson (R), Cooper's critic, also called Cooper out for using "state of emergencies" as a political prop.
"Once more, we hear government leaders telling you they know what is best for your children. Robinson stated that our Governor had gone as far as using the words "state of emergency" as a tool for political purposes. "However words like these weren't spoken when Democrats controlled the legislature, and teachers received pay cuts and were furloughed. Our Republican legislator allows families to chart their educational destiny because they know better what their children require than a bureaucrat.