Federal judge blocks New Mexico governor's gun ban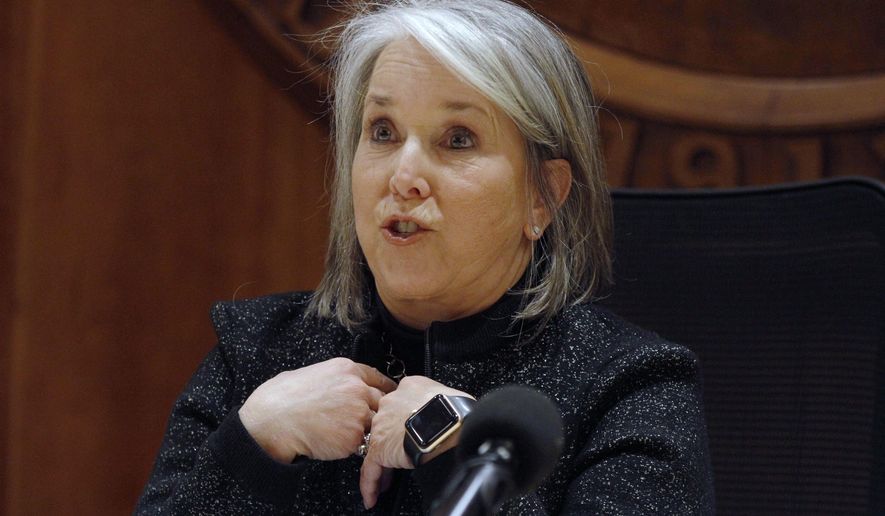 A federal judge blocked a part of an order by the New Mexico governor on public health. Michelle Lujan Grisham suspended the right of gun owners to carry firearms in public in Albuquerque, Bernalillo County and surrounding areas.
The ruling of U.S. district judge David Urias on Wednesday was a blow to the Democratic Governor, who had been facing increasing criticism from both sides in the gun debate.
Judge Urias agreed that the order violated constitutional rights, and granted a temporary restraint order to stop the suspension of gun right. The injunction is in effect until a court hearing on October 3.
The judge said that he didn't blame Ms. Lujan-Grisham for her emergency order. He said that he had to deal with a more specific question about the rights of citizens.
Lujan Grisham announced the order on Friday. She said that it was necessary in response to recent shootings. One of them took the life an 11-year old boy, as he was leaving a minor-league baseball game in Albuquerque.
The 30-day emergency would have covered open and concealed firearms carrying in public places ranging from city streets to urban recreation parks. In most public places, the state has allowed open handgun carry for many years.
In the hours following her emergency order, federal suits were filed to block the ban on guns, state legislators called for her impeachment, and gun control activists rebuked the president for violating the U.S. Constitution.
Ms. Lujan-Grisham stated that she expects legal challenges.
The state police was tasked to enforce the order, and issue citations with civil penalties as well as a fine up to $5,000.
The governor's own state and local officials, as well as the law enforcement agencies, refused to enforce this order.
Albuquerque Police chief Harold Medina has said that he will not enforce the order. John Allen, Bernalillo County sheriff, said that he was apprehensive about the emergency order because it raises too many constitutional questions.
Allen stated in a Friday statement that, "While I appreciate and understand the urgency, I believe the temporary ban undermines the foundation of our Constitution, which I took an oath uphold," he said. "I'm wary of putting my deputies into positions that may lead to civil liability conflict, as well the risks posed when denying law-abiding people their constitutional right to defend themselves."
Ms. Lujan-Grisham acknowledged that her emergency order wasn't popular.
She said, "I welcome the discussion and the fight on how to make New Mexicans safe," at a press conference in which she was flanked with law enforcement officials including the Albuquerque District Attorney.
Albuquerque mayor Tim Keller, a Democrat from Albuquerque, distanced himself from the Governor. He wrote in X (formerly Twitter) that Albuquerque Police Department was not responsible for enforcing this order.
Raul Torrez (New Mexico Attorney General) and other top Democrats said the time of the governor would have been better used if he had introduced comprehensive legislation to combat gun violence.
In recent days, protests over the emergency order have brought crowds of people to Albuquerque's public squares. Many people believe that Ms. Lujan-Grisham is again pushing the limits of her executive power after she used public health orders to aggressively lockdowns at the beginning of the coronavirus epidemic.
Mothers, military veterans and others protested with handguns in holsters on their hips or rifles over their shoulders.
New Mexico is a state that allows open carry, so anyone who owns a gun legally in Bernalillo county will be affected by the Governor's Order. According to an Associated Press' analysis of New Mexico Department of Public Safety data for fiscal year 2023, just over 14,500 people had active concealed carry permits in Bernalillo County.
Residents can still take their firearms with them to private locations, like a gun range, or a gun store. However, the firearm must have a lock, or other mechanism that prevents it from firing.