AOC Called Fiancé 'Spouse' In Ethics Committee Forms Despite Not Being Married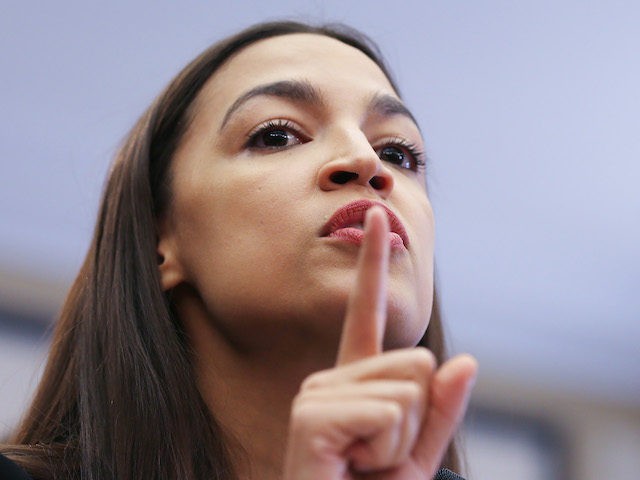 Rep. Alexandria Ocasio-Cortez, also known as AOC, is being scrutinized for referring to her fiance Riley Roberts as her "spouse", despite the fact that she was not married to him, in forms submitted with the House Ethics Committee, in 2023.
Ocasio-Cortez listed Roberts in her post-travel disclosure form to the House Ethics Committee as her "spouse". The forms relate to a trip to Japan and South Korea, which was funded by the Maureen and Mike Mansfield Foundation, and a trip to South America that was funded by George Soros Foundation to Promote Open Society and Center for Economic and Policy Research. Roberts, according to reports, paid for his own travel expenses.
Ocasio Cortez spokeswoman Lauren Hitt said to the Washington Free Beacon, that Ocasio Cortez and Roberts weren't "legally married" and added: "House Ethics recognizes the term spouse as extending to long-term partners."
The WFB defines "spouse" as "someone with whom you are legally wed."
According to the form, Ocasio Cortez had an option to check a box that said "other" and write "fiance".
If Roberts was indeed Ocasio Cortez's "spouse," Ocasio Cortez would be required to reveal financial information about Roberts.
WFB pointed out that the snafu has drawn attention because Ocasio Cortez is a leading advocate of ethics within Congress. She could be prosecuted for willful false statements on her disclosure forms.
The report says:
According to the House Ethics Committee, willful misrepresentations on congressional financial disclosure forms can result in civil penalties up to $50,000 or, in extreme situations, imprisonment up to five year. The House Ethics Committee has said that Ocasio-Cortez may also face reprimands from the committee, or a censure by a majority of the House, if she deliberately hid her husband's financial information.
Ocasio-Cortez reportedly also made two references in her financial disclosure form for 2022 to her "spouse", reporting a trip she took to Venice, Italy. She claimed to have paid their flight costs. According to The Beacon, the pair attended a four day art conference sponsored the Mara Foundation.
Ocasio-Cortez, since then, has proposed legislation that would ban members of Congress from owning stock and also their spouses. She has attacked Supreme Court Justice Clarence Thomas' "blatant disregard" for judicial ethics and for failing to "report significant gifts from Harlan Crow and others billionaires".