Alvin Bragg to File Charges Against Hero Marine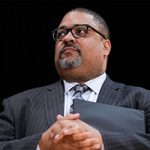 Alvin Bragg, Manhattan District Attorney, plans to file manslaughter against ex-Marine Daniel Penny for saving lives and protecting fellow New Yorkers on the subway from a violent criminal.
NBC 4 New York reported that "the 24-year-old ex-Marine seen on video holding Jordan Neely's neck, who died from the chokehold in an F train this month in Manhattan, is expected be charged and surrendered as soon as Friday," three sources familiar with this matter told News 4 New York.
Penny, along with others, subdued Jordan Neely last week after he threatened violence against subway riders. Neely had been arrested previously 40 times, and he attempted to kidnap an eight-year-old girl. Neely died as a result his actions and threats. Penny is seen in the video putting Neely into a recovery position after he stopped his threatening pose.