New York Gov. Hochul announces 18,000 jobs for asylum seekers as city's migrant influx exceeds 125,000 people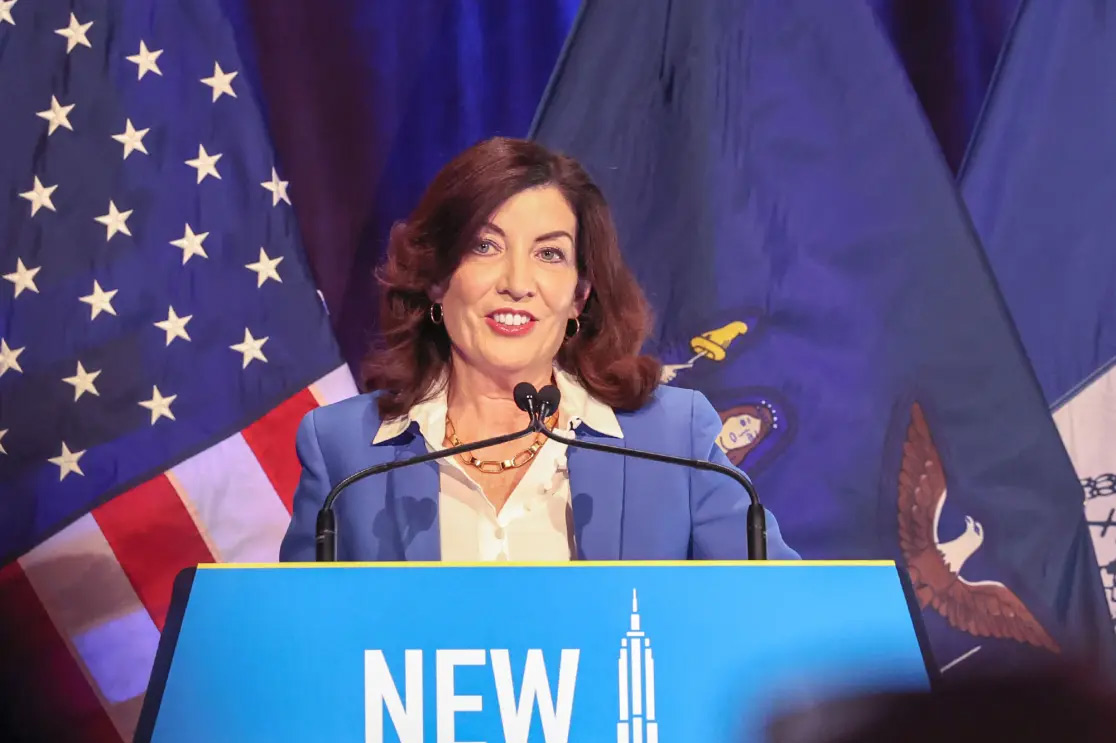 Democrat New York Gov. Kathy Hochul announced on Monday 18,000 new job opportunities for asylum seekers and migrants who are eligible, as New York City is facing an influx more than 125,000 people.
Hochul said that the Department of Labor in the State has identified more than 18000 private sector job openings across the state. Since the first assessment and outreach began on August 24, the Department of Labor identified roles which could be filled by people with legal work status.
According to the Governor's office, about 24% of job openings are in the accommodation and food service sector with 90 companies. The remaining 21% are in the healthcare and social services sector with 79 companies. The openings in manufacturing are 10% with 38 businesses and administrative support is 8% with 29.
Hochul, at a recent press conference, said: "We must manage the fact that 125,000 people are not eligible to work and are relying on housing assistance from the government." "This is not a viable dynamic. It's just not sustainable on the long run. We've already dealt with the problem. "I'm going call on more businesses to sign up."
She said, "I'm hopeful and will continue to press Washington to extend work authorizations for more people. Again, Venezuelans are a great start, but they won't cover the people coming in from Mauritania and Congo and other parts of South America and Central America and West Africa." "We're seeing people coming from Iraq, Afghanistan, and Russia, as everyone is finding their way to the southern border." We need to be more careful in implementing controls on that border.
The job openings identified are spread throughout the Capital Region, Central Region, Finger Lakes region, Hudson Valley, Long Island area, Mohawk Valley area, North Country, Southern Tier and Western Region.
New York City offers the most jobs for asylum seekers, with 9,801 available positions.
The state found 2,896 open positions in Hudson Valley, and 1,294 on Long Island. This is despite the fact that local officials in these areas have either publicly opposed or fought in court Adams' attempts to move mostly male migrants into motels for extended stays of months.
"Not even a day after admitting that the border crisis was a national crisis, Governor Kathy Hochul has returned to encouraging illegal immigration by announcing 18000 jobs for those who have entered the United States without authorization, including hundreds in Upstate New York, and the North Country," House GOP chair Rep. Elise Stefanik said in a Fox News Digital statement. Hochul's failed policies of a 'Sanctuary State,' while New Yorkers demand border security, worsen the crisis. Enough. "If Hochul was serious about ending the illegal immigration crisis she would insist that Chuck Schumer sign and Joe Biden pass the Secure the Border Act which is the strongest border-security bill in history."
Hochul, at a press conference on Monday, praised Biden's administration for expediting the worth authorization of Venezuelans and granting them temporary protective status. New York City estimates this will allow for more than 15,000 Venezuelans to obtain legal work status in 30 days.
"It's a sign that 40 percent of those who have come here from the jungles, mountains, rivers and unbelievable adversity found their way to New York." Hochul stated on Monday that forty percent of Venezuelans are now eligible for work authorizations, and Temporary Protection Status (TPS), because of the Biden Administration's actions. "And those who arrived before July 31st, are eligible for this." This is the best possible news in such a short timeframe as we have been looking for solutions to this issue."
According to the calculations of the governor, approximately 60% of migrants arriving in New York City come from somewhere else than Venezuela. Hochul activated 250 National Guard members to provide full-time asylum case management. This is part of the deployment of over 2,100 National Guard officers to deal with the current migrant crisis.