Biden Tapped This Group to Fight Anti-Semitism. It's Defending Hamas's Attack on Israel.
The Biden administration contacted the Council on American-Islamic Relations earlier this year to launch an anti-Semitism initiative. The anti-Semitic organization and its leaders have defended Hamas's attacks this week that killed over 1,000 Jews.
In May, the White House announced that the Council on American-Islamic Relations (CAIR) would be participating in the "National Strategy to Combat Anti-Semitism". As part of this initiative, CAIR began a national tour to educate religious minorities on how to protect their places of worship against hate incidents.
CAIR now condones the largest attack on Israel in history, which raises further questions about the affiliation of the administration with the controversial group. Hamas fighters launched a surprise assault on the Jewish state over the weekend. They killed hundreds of civilians, and took dozens of women and kids hostage. The terrorist group has said that it will broadcast the executions of hostages in case certain demands aren't met.
CAIR blamed Israel for the attack. The group called on lawmakers to "address root causes of Mideast conflict," which they attributed to Israel's "apartheid policy."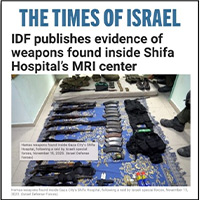 Nihad Awad is the executive director of CAIR. In the aftermath of the attacks he called Israel a "settler colonial Apartheid State" and criticized the Israeli flag being placed on the Eiffel tower in Paris. Awad posted on social media "Israel=Russia" and asked President Joe Biden not to condemn the Hamas terrorists, but rather Israel. Awad wrote: "You must condemn both the occupier and the occupied."
This is the latest instance of the Biden Administration courting anti Israel groups. Biden has recently designated Qatar as a non NATO ally. This will boost diplomatic relations with the oil-rich Gulf country. Qatari leaders, however, condemned Israel following the Hamas attacks and claimed that Israel was "solely" responsible for the violence.
This year, the State Department awarded grants to anti-Israel and pro-Hamas organizations in Gaza and West Bank. On September 29, the State Department gave $100,000 to Al-Quds Open University in Ramallah, which praised Hamas terrorists as "righteous heroes."
CAIR's anti Israel views have been well-known for many years. CAIR leaders were implicated in a 2007 federal trial for the Holy Land Foundation (a Texas-based Islamic charity) as being linked to Hamas. In this case, the founder of CAIR's Texas chapter received a 65-year prison sentence.
Zaira Biloo, executive director of CAIR San Francisco, has called mainstream Jewish groups "enemies", and defended Hamas for firing rockets at Israel. She asked in 2015: "When did Hamas last impose a siege on a people?"
CAIR lobbyist Robert McCaw said in 2021 that his group would boycott an event at the White House because "the Biden Administration's increasing and depressingly disturbing response to Israel's government's abuses of human rights against Palestinians" The White House hosted McCaw for four events since then, including a "listening session," on May 2, regarding Islamophobia.
Awad is the executive director of CAIR. He has been an outspoken critic of Israel and has praised Islamic leaders who advocate violence against Israel. He praised Yusuf al-Qaradawi last month, who is a Muslim Brotherhood Leader and has called for a second Holocaust against Jews. Awad described al-Qaradawi's actions as "the one that stood up against the oppressors and didn't beg."
Both the White House and CAIR have not responded to our requests for comments.