Border detention facilities reach capacity amid spike in migrants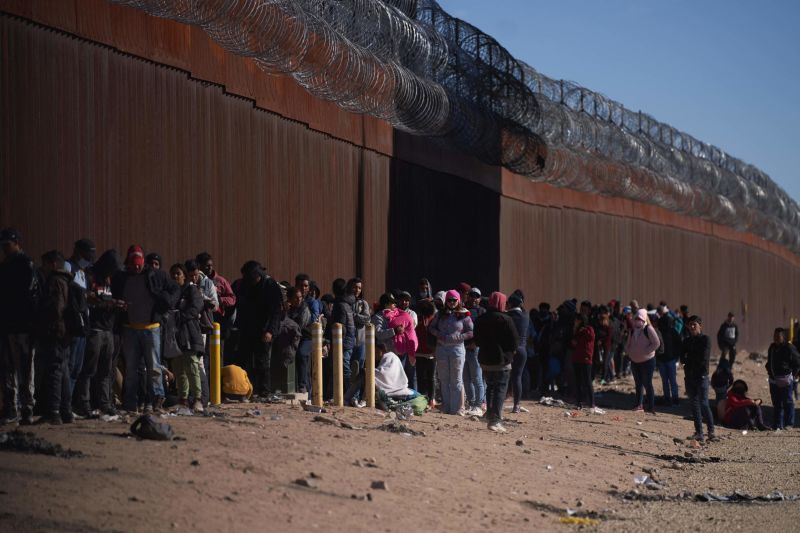 According to a Department of Homeland Security spokesperson, the detention facilities on the US-Mexico Border have exceeded capacity due to an increasing number of migrants crossing into the United States in the run-up to the expiration of Title 42 border restrictions from the Covid era.
The official stated that as of Saturday morning there were over 20,500 migrants held by US Customs and Border Protection along the southern border of the US. He also stressed the fact that the number of people being held fluctuates during the day.
As of Saturday morning, Homeland Security officials reported that the Rio Grande Valley, which includes south Texas, was home to nearly 7,000 migrants. Most are Venezuelans.
In anticipation of Title 42's expiration, officials have noticed an increase in the number of migrants crossing the US/Mexico border. Title 42 was invoked during the outbreak of the Coronavirus pandemic to allow border authorities the ability to expel migrants quickly. In recent days there have been 7,000 daily encounters at the US southern border. This number is expected to increase in the coming week.
Brownsville in the Rio Grande Valley is experiencing a surge in migrants.
Gloria Chavez is the Border Patrol Chief of the Rio Grande Valley Sector. She said, "I would say that during the first two week period in April we had an average of maybe 1,700 Venezuelans illegally entering the country via this particular area in Brownsville." "And two weeks later we saw a spike of more than 15,000 Venezuelans here in the last eight days."
Chavez said that the Border Patrol has a holding capacity of 4,000 in the Rio Grande Valley, and on Friday afternoon about 7,500 migrants had been taken into custody.
Chavez said Title 42 was still in effect and that her agents would be applying the order.
Title 42 expires on May 11,
Title 42, a Covid-era restriction on border crossings, is expected to expire May 11 when the national coronavirus emergency ends. This means that border authorities won't be able expel certain migrants quickly south of the border.
In the absence of Title 42, US immigration authorities are likely to return to outdated protocols during a period of unprecedented mass migration throughout the Western Hemisphere. This has raised concerns in the Biden administration regarding a possible surge of migrants in the aftermath.
Officials have been rushing to implement new policies in order to stop the migration flow. However, even after these are implemented, they recognize that there will be a large number of people waiting at the border, who were anticipating the ending of Title 42 which had been the main enforcement tool since 2020.
Senior Customs and Border Protection officials told CNN that the agency believes "several thousands" of migrants are waiting to cross the border in northern Mexico. Officials expect an influx of migrants in El Paso, Texas, where Biden visited last January, and the Rio Grande Valley.
Officials expect that the return to traditional protocol will deter migrants from crossing the border repeatedly. Title 42 saw a dramatic increase in the number of repeat border crossers, with little or no consequences.
The administration has also put in place other plans to try and manage the flow. These include rolling out a rule that would bar migrants from the US who have traveled through another country on their way to US-Mexico, restarting the policy of expediting asylum screenings and assigning US Citizenship and Immigration Service staff to interview migrants seeking asylum.
Even so, Alejandro Mayorkas, the Homeland Security Secretary said that the Department is preparing to face what he called a difficult few weeks when Title 42 authority is lifted and smugglers spread misinformation among migrants.
Brownsville declares a state of emergency
Nurith Galonsky, Nurith's District 1 Commissioner in Brownsville, has declared an emergency because of the recent influx migrants.
"On April 27th, as mayor pro-tem, I signed a declaration of disaster. They are not staying in Brownsville. "They have a destination outside Brownsville, and we will handle this with due procedure as these individuals ask for asylum and ultimately move on to their destination," Galonsky said at a press conference.
Chavez stated that many of the Venezuelans, who crossed the border illegally into Brownsville, had been waiting in Matamoros. They were trying to schedule appointments using the CBP One App.
This application allows migrants who meet certain requirements to legally enter the US through a port-of-entry under Title 42 to be given appointments. Appointments are difficult to get and migrants seem to be losing patience.
Chavez stated that the Border Patrol uses decompression to manage the influx. Border Patrol uses the term decompression when migrants are moved from a sector that is at capacity to one with space for processing.
"We have a partnership with both the Del Rio Border Patrol and Laredo Border Patrol. They are taking buses from Del Rio Sector that go to Laredo, and buses going to Eagle Pass. These are daily and we continue to decompress the busses as fast as possible," Chavez stated.
Chavez stated that so far in this year, Border Patrol Agents in the Rio Grande Valley, have encountered migrants of 72 nationalities. This includes a recent increase in Chinese nationals.