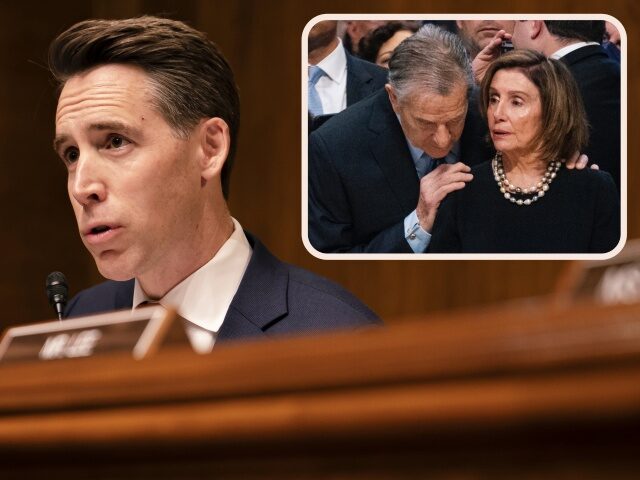 Senator Josh Hawley (R.MO) introduced the "PELOSI act" that would prohibit members of Congress and their families from trading or holding stocks.
The legislation is known as the Preventing Elected Leaders From Owning Securities and Investments Act. It refers to Nancy Pelosi (D–CA), former House Speaker who was criticized last year for buying stock in a semiconductor firm worth $5 million right when the Senate was passing legislation that would massively subside the industry.
Pelosi was also part of a group that included Republicans and Democrats who beat 2021's market with stock trades worth hundreds of millions of dollar. Other notables include Reps. Austin Scott, Brian Mast (R–FL), French Hill, John Curtis and Dan Crenshaw.
Hawley introduced legislation similar to this last year and said that the practice must stop.
Hawley stated in a statement that Washington politicians have profited from the economic system they create, for too long turning profits at the expense American citizens.
He continued, "As members Congress, both Senators as well as Representatives are charged with oversight of the companies they invest in, but they continue to buy and sell stocks, outperforming market times and time again."
The PELOSI Act by Hawley would prohibit members of Congress and their spouses holding, acquiring or selling stocks while they are in office. Members and their spouses have six months to either sell stocks or place them in blind trusts.
If Congress members or their spouses are found in violation of the legislation's rules they will have to forfeit any profits to US Treasury. Also, violators would be forbidden from deducting these losses from their income taxes.
The legislation grants the House and Senate ethics commissions the power to fine members for violating the rules and requires them to make these public to the American people. The bill would require the Government Accountability Office to audit Congress members to verify that they are following the rules.
Hawley stated that Wall Street and Big Tech are working hand-in-hand to benefit each other while hardworking Americans pay the price. "The solution is simple: We must ban all members and staff of Congress from trading stocks immediately and permanently."
Most likely, American voters are very fond of banning members and their families from trading stocks.
A Trafalgar Group survey last year revealed that 76% of respondents believe Congress enjoys an "unfair advantage" in the stock market. Only five percent of respondents support congressional stock trading.