Sen. J.D. Vance Demands Biden Admin Reveal if American Transgender 'Spokesperson' for Ukraine Military Has U.S. Intelligence Ties After Threats to 'Hunt Down' Russian 'Propagandists'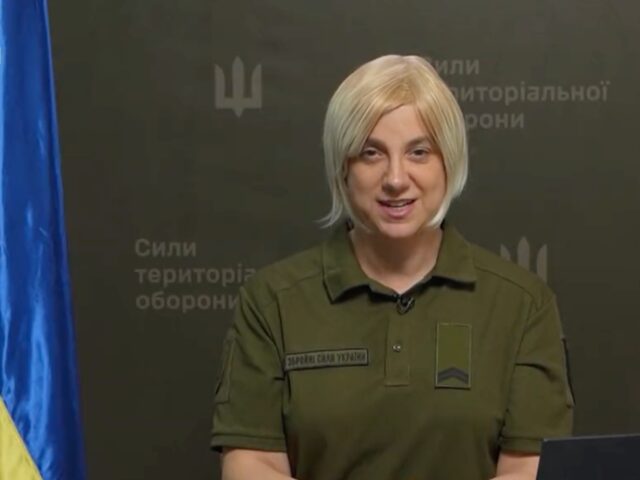 Senator J.D. Vance (R – OH) wrote to Biden administration officials to demand that the White House reveal if Sarah Ashton – Cirillo, a transgender person claiming to speak for the Ukrainian military has ties with American intelligence services, and if U.S. funding is currently subsidising Ashton – Cirillo's role in Ukraine, after the personality became viral, vowing to hunt down Russian "propagandists".
Ohio Senator J.D. In a Breitbart News-reported letter to Secretary of Defense Lloyd Austin and Director of National Intelligence Avril haines, Ohio senator J.D. Vance asked the U.S. Government for any information it has about Sarah Ashton Cirillo, a former freelance journalist who was born Michael John Cirillo and is reportedly now a spokesperson of the Ukrainian military.
Ashton-Cirillo, who appeared in front of a background featuring the logo of the Territorial Defence of Ukraine branch of Kyiv's military, posted a video on social media earlier this week declaring that Ukraine would "hunt down" alleged Kremlin allies operating in Ukraine and calling them "propagandists".
Next week, the Russian devils' teeth will grow ever stronger, and their rabid lips will foam in an uncontrollable frenzy, as the world watches a Kremlin propagandist who is a favorite of theirs pay for his crimes. This puppet is just the beginning. All of Russia's propagandists who are war criminals will be tracked down and justice served, as we, in Ukraine, will be led in this mission by our faith in God, freedom and complete liberation," warned the apparent Ukrainian spokesperson.
Ashton Cirillo, a former member of the Ukrainian military who is alleged to be involved in this ominous message that quickly became viral, was questioned by Sen. Vance about his background and current alleged role.
In recent days, an individual claiming to be a spokesperson of the Ukrainian military in English has been circulating a video. Sarah Ashton Cirillo is seen in the video looking directly at the camera, threatening physical violence against anyone who spreads 'Russian propagandist'. He wrote this letter to Sec. Blinken Sec Austin and Director Haines.
"A number reports claim to provide additional information about Ashton Cirillo, most of which is unconfirmed. I've read that this person is American, former US intelligence agent, and employee of the Ukrainian Government. Ashton Cirillo has been accused of pulling a clever prank by others. If so, kudos to you for delivering high-quality humor," Vance said in apparent reference to Ashton-Cirillo's reported lobbying to the U.S. Congress last December for military assistance to Ukraine.
The Ohio freshman senator then asked for information from the White House.
"Do we have any reason to believe that this person is employed by the Ukrainian Military and compensated with American resources?"
Are they an American citizen or not? Has this person ever served in the American intelligence service?
"Do we have any reason to suspect that Ukrainian forces or intelligence agencies are planning violent acts against those who engage with 'Russian propaganda?
The Republican lawmaker expressed concern that U.S. tax dollars support violence or the threat to violence against people who speak their minds. He noted that American journalists, and even current president candidates, have been "slandered", as propaganda for Russia.
Senator Vance told Breitbart News that he was "sure" it was their right to hire a bunch of weirdos who would threaten Americans or others for expressing their opinions. It's not right for them to use our tax money. We shouldn't pretend that this is a freedom war when our supposed ally threatens violence against anyone who opposes it."
Signh, the Deputy Pentagon Press Secretary, was asked on Thursday if she could confirm whether or not the American government can confirm that the transgender person in question, who has been reported by Newsweek, is indeed the spokesperson for the Ukrainian Military. Signh replied, "I cannot confirm this."
Ashton Cirillo did not specify which of the alleged Putin propagandists would be "hunted". Ashton Cirillo, however, claimed on Tuesday to have given testimony in the case Gonzola Lira who is a dual citizen of Chile and the United States. She was accused by the Zelensky Government of spreading pro Russian propaganda for posting videos within Chile critical of the Ukrainian Government.
In a second video released this week, an apparent Ukraine spokesperson stated that, after Ukraine has retaken lands occupied by Russian forces, the Zelensky Government will prosecute all war criminals who were involved in Moscow's invasion. Ashton-Cirillo said they would also include "propagandists".
"Russian propagandists have been branded war criminals. They are pushing a narrative that portrays genocide, death and, ultimately, evil, which is aimed at them by Vladimir Putin, his inner circle, They cannot escape justice. "You cannot hide behind a title like journalist or any other title that you give it when you are working for Vladimir Putin's terrorist regime", Ashton-Cirillo stated.
Ashton Cirillo warned Maria Vladimirovna Zakharova on Sunday that she too would be tried as a war crime. Zakharova reportedly criticised Ashton Cirillo for not creating social media videos in Ukrainian, despite Ashton-Cirillo appearing to speak on behalf of Ukraine's government.
Dmitry Polyansky, Russia's first deputy permanent representative to the UN, said Friday that the Kremlin also intends to bring up the Ashton Cirillo issue and "threats against Russian journalists and Zakharova" as well as foreign election observers at the United Nations.
Kyiv's spat with Moscow over alleged Putin propaganda comes at the same time as the Ukrainian government arrests and detains an active member of the Ukrainian Parliament. Nestor Shufrych of the Opposition Platform – For Life was given a two month detention on Friday as he is facing prosecution for high treason. He allegedly spread the "Kremlin false narratives".
The Zelensky government, despite the fact that his party condemned Russia's invasion of Crimea last year and several other opposition groups were also banned under martial law because it was allegedly too pro-Russian.
The Opposition Platform — For Life won the second-most votes in the 2019 general elections, behind Zelensky's Servant of People party. The President has not confirmed if the presidential election will take place on Saturday.