House GOP Eyes Short-Term Spending Deal as Shutdown Looms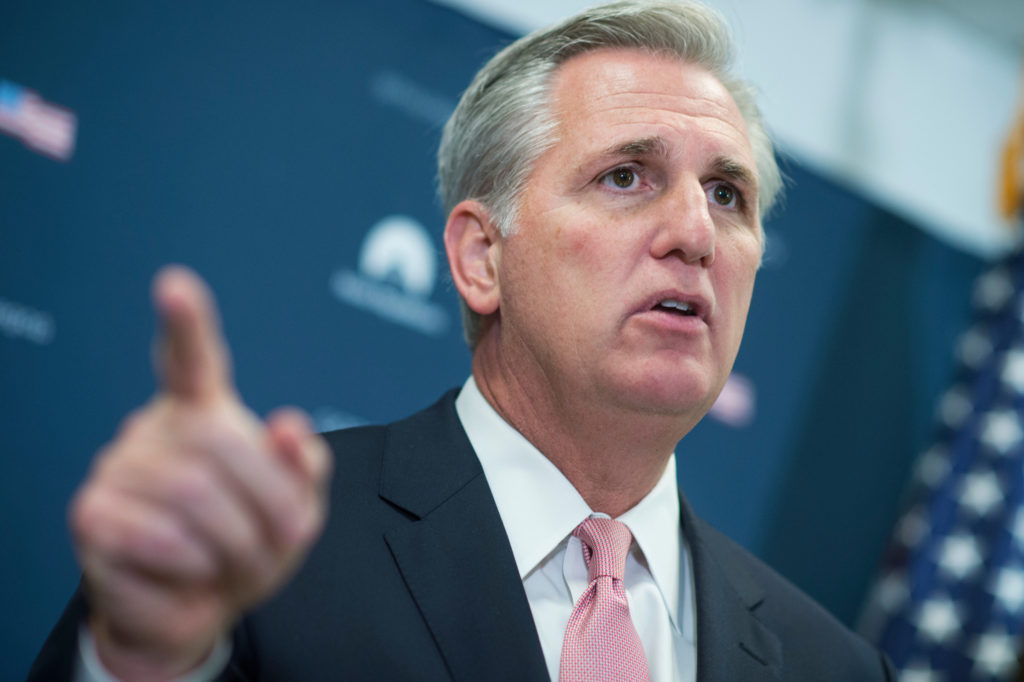 House Speaker Kevin McCarthy said on Sunday that he would put a bill for defense spending to a vote this week "win or loose" despite the opposition of hardline Republican colleagues.
McCarthy struggles to get fiscal 2024 legislation passed in the House. Republicans are divided by conservative demands that spending be cut to $1.47 trillion, $120 billion less than the level McCarthy and Biden agreed on with McCarthy in May.
Members of the House Freedom Caucus and Main Street Caucus, a more moderate group, announced late on Sunday a deal to pass a stopgap measure that would keep the government running until October 31. However, the bill included a cut of over 8% in spending for agencies other than the Departments of Defense and Veterans Affairs.
This measure is not likely to become law. It also contains conservative restrictions on immigration, and the border between Mexico and the United States. The measure does not include the funding that Biden requested for Ukraine.
Republicans say that a deal of this kind could enable the House to pass the Defense Spending Bill in the coming week.
It was not clear if the measure would receive enough Republican support to pass. Democrats who oppose immigration will also be opposed to the spending cuts.
The Republicans have a 221-212 narrow majority in the House as they argue over spending and launch a new effort to impeach President Joe Biden, while the United States is facing a potential fourth partial shutdown in a decade.
McCarthy is facing calls from conservatives who are hardline and from others to remove him from office. They claim that he has failed to fulfill the promises he made when assuming the role of speaker of the House in January, following a revolt by some of the most conservative Republicans.
The Republican-controlled House and Democratic-led Senate have until Oct. 1 to avoid a partial shutdown by enacting appropriations bills that Biden, a Democrat, can sign into law, or by passing a short-term stopgap spending measure to give lawmakers more time for debate.
McCarthy took a harder line with the hardliners by telling Fox News' "Sunday Morning Futures," that he will bring the defense bill, which has been stalled for months, to the floor of the House this week. Last week, the House postponed the vote to begin debate on the Defense Appropriations Bill due to hardliners' opposition.
McCarthy said: "We will bring it to the floor and show the American people who is for the Department of Defense and who's our military."
McCarthy said that he also wants to ensure there is not a shutdown on Oct. 1. He added: "A shutdown will only strengthen the Democrats."
McCarthy held discussions behind closed doors over the weekend to overcome a roadblock placed by conservative hardliners in the way of spending legislation. They want assurances the legislation will include both their deep cuts in spending and conservative policy priorities, including provisions related tighter border security which are unlikely to win Democratic votes.
McCarthy stated that "we made good progress."
Rep. Elise Stefanik (R-NY), the No. Rep. Elise Stefanik, R-N.Y., the No.
Rep. Nancy Mace (R-S.C.) told ABC's This Week that she expected a shutdown, and didn't rule out supporting a vote against McCarthy's removal. Mace claimed that McCarthy has failed to fulfill promises made to her regarding women's rights and gun violence.
Mace stated, "I'm ready to do anything at this time."
Mace downplayed the effects of a government shutdown. He said that most of the government will continue to operate and that government workers would get time off, with pay back at a future date.
Nancy Pelosi (D-Calif.), former House Speaker, warned that a government shutdown could harm the most vulnerable citizens who depend on assistance from the government.
Pelosi said to MSNBC, "We're talking of reducing even something so simple and fundamental as the feeding of children." We have to do our best to avoid it.