Mexican president threatens to meddle in US elections with 'information campaign' against Republicans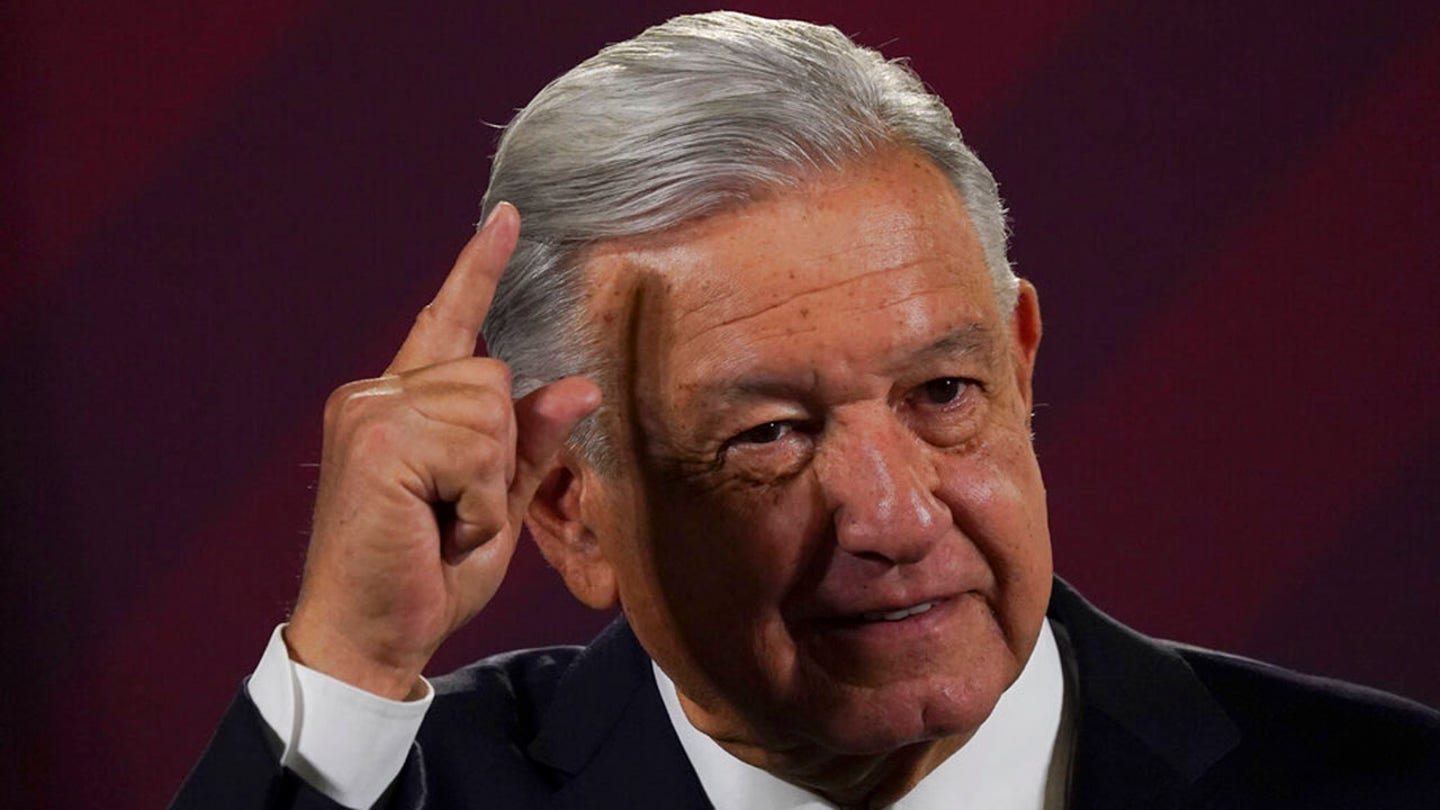 Andres Manuel Lopez Obrador, the Mexican president, threatened Thursday to launch an "information camp" in the U.S. to attack Republicans. He told Mexicans and Hispanics to not vote for them unless U.S. legislators change their treatment Mexico. This apparent threat of electoral interference was made by the head state in response U.S. demands for action against cartels that smuggle fentanyl across Mexico's border.
He stated that he was going to launch an information campaign today for Mexicans living and working in the United States. This will inform all Hispanics about what is happening in Mexico, and how the Republicans' initiative, in addition to being irresponsible and an offense against the Mexican people, and a lack respect for our independence and our sovereignty.
"And if [they] don't change their attitude, think that they will use Mexico for propaganda, electoral and political purposes," Lopez Obrador stated. Later, Lopez Obrador added that Mexico would insist that "not one vote goes to Republicans from Mexicans or Hispanics."
Lopez Obrador responded to Republican lawmakers' calls for military action to stop the continued smuggling into the U.S. of fentanyl.
Sen. Lindsey Graham (Republican from South Carolina) called Wednesday for the United States to unleash its "fury" on Mexican drug cartels.
Graham stated that the United States would unleash its fury and might against the cartels. We will destroy their business model, and their lifestyle. Our national security and that of the United States in general depend on our decisive actions.
Graham stated that he plans to introduce legislation to designate Mexican drug cartels foreign terrorist organizations (FTOs), and to authorize the U.S. military to enter Mexico to destroy the drug networks.
He stated, "Not to invade Mexico. Not to shoot down Mexican planes, but to destroy drug laboratories that are poisoning Americans."
Graham dismissed any concerns that such a move would cause damage to diplomatic relations with Mexico.
He said, "We would like to help you but we are not going to sit by and watch our neighbor become an narco-state which kills more Americans than we lost in Vietnam"
Rep. Dan Crenshaw (Republican from Texas) had previously backed military action following the recent deaths of two Americans by cartels. He stated that it was now "time to authorize military force against the cartels."
We would love to have you as a partner. He tweeted, "Help up help you."
Lopez Obrador claimed that Mexico doesn't produce fentanyl in comments he made on Thursday. He also attempted to deny responsibility to the U.S.
He stated, "Here, fentanyl is not produced and we don't have consumption of it." "Why don't they [the United States] address their social decay problem?"
Lopez Obrador claims that the vast majority of fentanyl, which can be fatal when taken in small amounts, is actually manufactured in Mexico with Chinese precursors. It is then smuggled across America's land border. This fact has been acknowledged by the Mexican government, which has taken a number high-profile seizures at drug labs on its territory.
In December, the DEA stated that most of the fentanyl trafficked through the Sinaloa or CJNG Cartels was being produced in secret Mexican factories using chemicals largely sourced from China.
Not just Republicans have been critical about Mexico. Last week, Attorney General Merrick Garland informed the Senate that the Mexican cartels are "unleashing the fentanyl epidemic on purpose".
He said that Mexico was helping us but could do more.