Gov. Greg Abbott taps former Border Patrol agent as first Texas border czar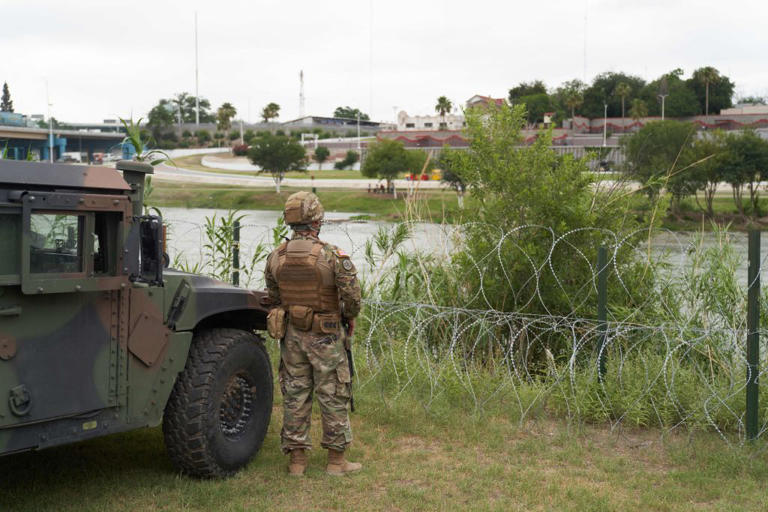 Gov. Greg Abbott announced Monday that the new position in Texas' state government will be responsible for leading border control efforts.
Abbott stated that "Combating illegal migration in Texas is a full time job" at a news conference held near San Benito, Texas, along the Texas-Mexico border.
Abbott, a Republican, was elected to a four-year term in November. He said Mike Banks will be the new border czar. Banks is a former Border Patrol agent. He will be based near the border in Weslaco and report directly to Governor. Banks, who has been working in border security for over 20 years, retired this month from the Border Patrol.
"Mike has witnessed firsthand the struggle ranchers and communities are facing due to open borders," said Abbott. He has blamed President Joe Biden, Democrats, for the historic rise in illegal border crossings that started in 2021.
Abbott stated that Banks would work with the Texas National Guard and the Texas Department of Public Safety, as well as other state agencies.
Abbott stated that the new border czar would also have to work with state officials in building the state's wall. He didn't say how much the position would pay nor how many staff Banks would have.
Abbott's latest move to stop migrants from crossing the Texas border is to hire.
Abbott and the Legislature spent over $4.4 billion to send thousands to the border of DPS and National Guard agents from Texas. Abbott has also initiated a busing program to send migrants who have been processed by Border Patrol officers to states with Democratic leaders. More than 15,000 migrants were bused to New York City, Philadelphia, Washington, D.C., Chicago, and Washington, D.C.
The federal government hires a border czar to help divert migrants from Venezuela, Nicaragua and Cuba.
Officials from the Border Patrol reported over 400,000 encounters between migrants and border patrol agents along the Texas Texas border in October and December — more than 100,000 more than the same period last year.